All the colours of the rainbow (and CN Tower)
Our Carte Blanche picks also include snack cakes, giant night lights and the cleanest billboard you've ever seen!
Astral OOH has announced the 75 finalists (25 for each market) for its annual Carte Blanche competition.
Carte Blanche recognizes the best in OOH creativity in Toronto, Montreal and Western Canada. Participating creatives face the unique challenge of coming up with compelling outdoor ads for the chance to have their ideas come to life with a $50,000 Astral ad campaign for their client, as well as two tickets to the Cannes Lions Festival of Creativity for themselves. Below are the dates for the winner reveals in each market.
Western Canada: May 16
Toronto: May 17
Montréal: May 25
Members of the Stimulant editorial team (Bree Rody-Mantha, Jennifer Horn, Josh Kolm and Justin Dallaire) selected the entries that caught their eye the most.
Toronto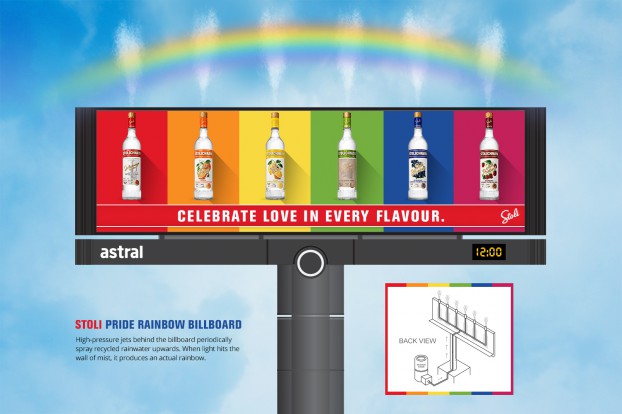 This Stoli billboard combines a compassionate message of pride with the power of nature. Recycled rain water is periodically shot upward, with the billboard producing an actual rainbow.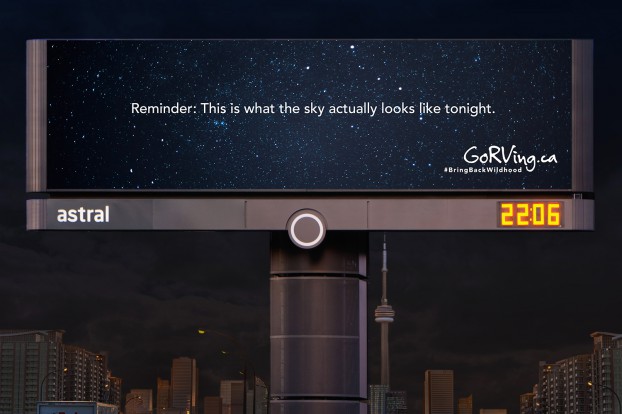 Go RVing's billboard takes a jab at Toronto's less-than-crystal clear skyline.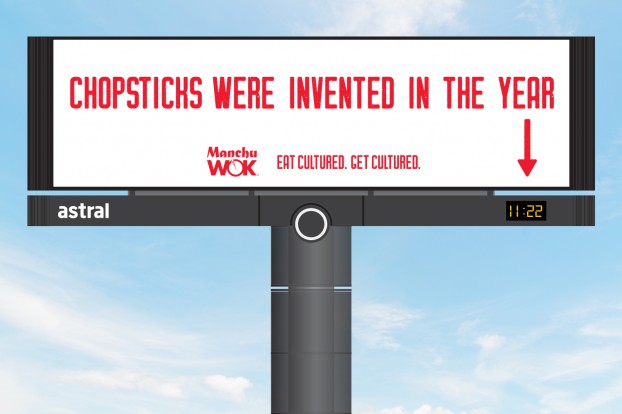 There's a lot of Chinese history that many Canadians probably don't know – so Manchu Wok uses the billboard's clock to give people mini history lessons by the minute.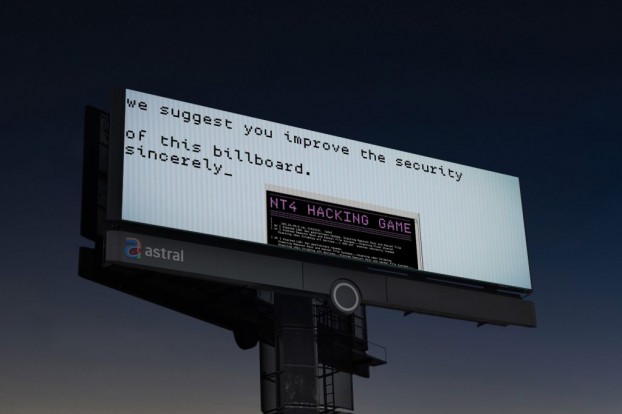 Talk about a hack job. Hacking game Nite Team 4′s entry looks at first like something went wrong with the billboard. Once people realize how easy it is to hack the billboard, maybe they can try their hands at this game.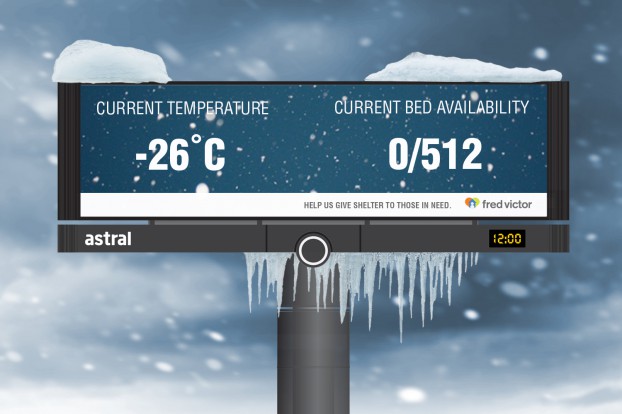 Shelter bed availability in Toronto was a hot topic during a particularly cold year. It's easy to forget when you're comfortable in your car that many people are struggling just to survive. Fred Victor's billboard reminds commuters that it can help.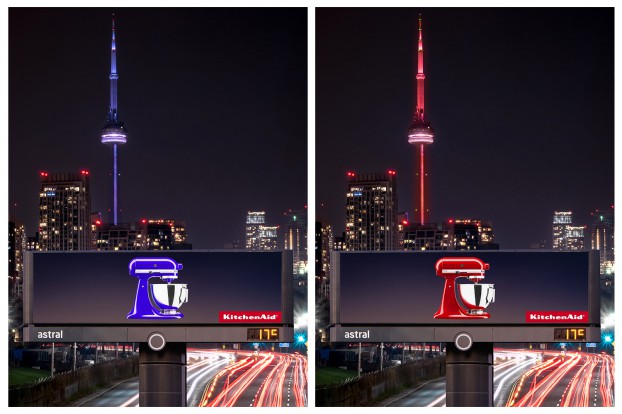 There's a KitchenAid Mixer colour for every occasion, it seems – and this billboard showcases that it comes in all the colours of the rainbow. Or, at least, all the colours of the CN Tower.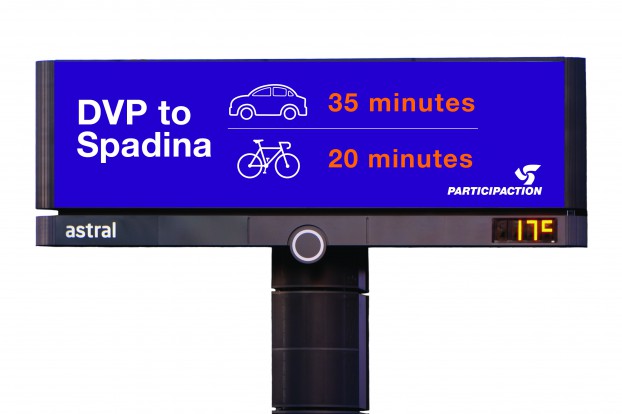 The Gardiner Expressway is a little crowded, don't you think? This daily cycling commuter has always insisted that it's actually faster to ride a bike through town, and Participaction's billboard provides the proof.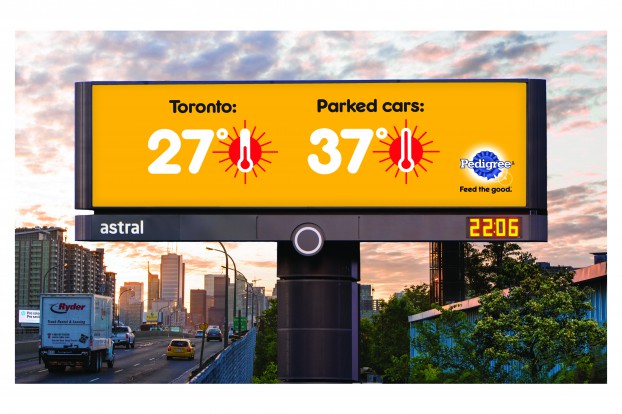 Got your pooch in the back seat? Don't think for a second about leaving them in there. This entry for Pedigree calls attention to the growing problem of leaving pets in hot cars.
Montreal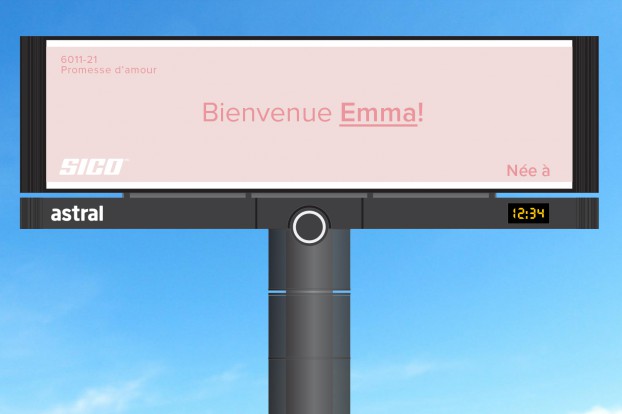 Blame Ross and Rachel, but Emma is one of the most popular female names in the Western hemisphere today. Sico's entry takes common names of children (and uses the attached clock to include a time of birth) and recommends that people buy a soft, baby-pastel shade of paint to decorate their nurseries. Androgynous name? There's always "jeune pomme" (young apple).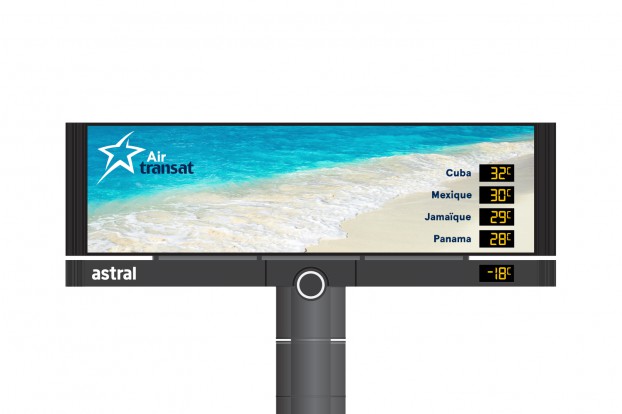 We'll admit a lot of advertisers are playing with weather and temperature data these days, but Air Transat's side-by-side comparison of the current temperature with that in four different markets certainly makes a compelling case. Pardon us, we have some sunglasses to pack.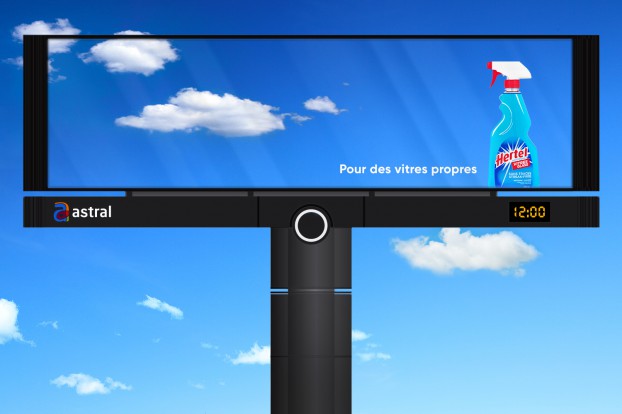 It's a good thing this billboard is nice and high off the ground, because it's so clean, you could almost run right into it! CPG manufacturer Hertel's ad is cheeky, clever and to-the-point.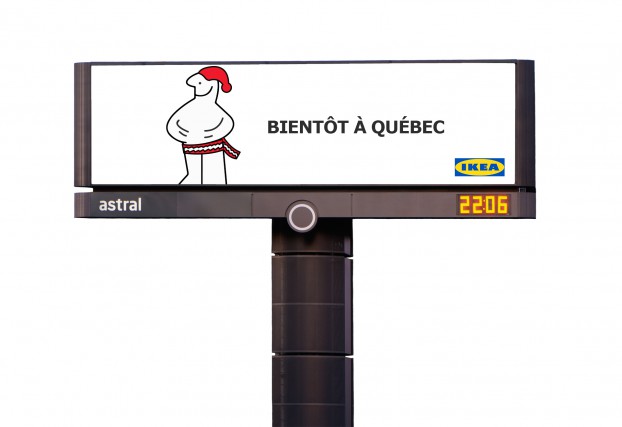 Name a more iconic Quebec figure than Bonhomme Carnaval (sorry Celine, our heart will always go on for Bonhomme). With IKEA coming to the Quebec market in 2018, it decided to pair with the uber-recognizable character to create a sense of fun and anticipation.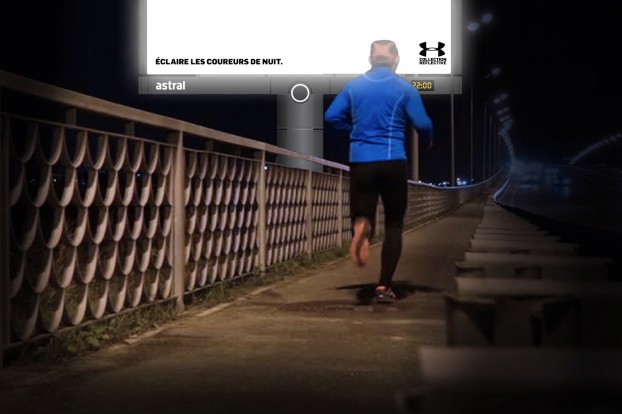 To show that safety comes before moving product, Under Armour's billboard doesn't advertise any product, but serves as a giant nightlight to keep night joggers' paths well lit.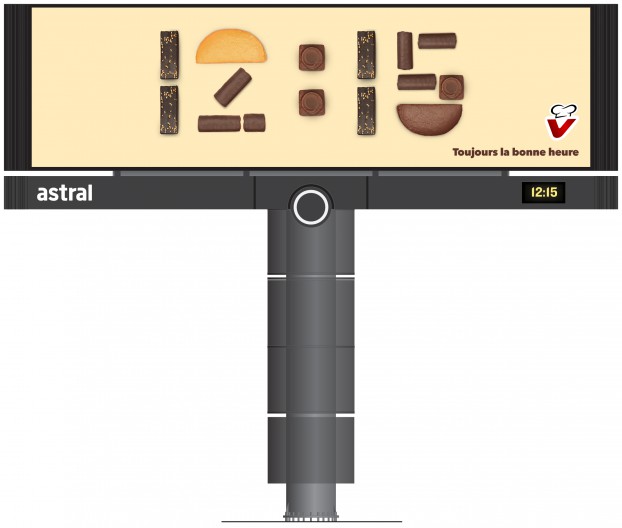 Will you always carry a torch for Joe Louis? Or are you a die-hard caramel square fan? Vachon's entry, which uses all the cakes in its portfolio of sweetness to display the time, shows that they're all equally important (and delicious).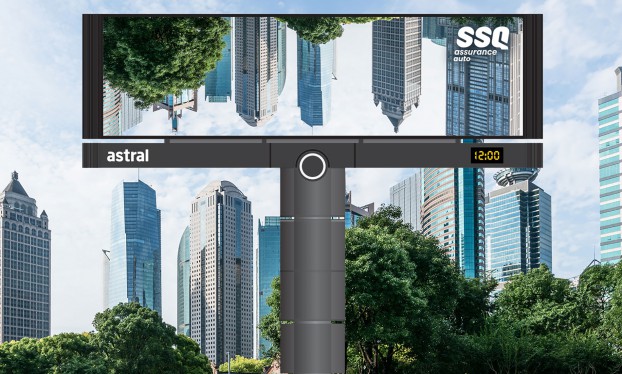 ]
Insurance provider SSQ's crazy mirror images show how going through an accident, or filing a claim, can turn your world upside-down.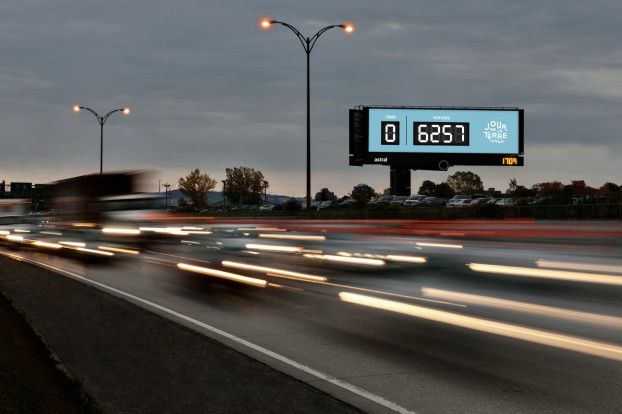 Did you still drive to work on Earth Day? This billboard contrasts that when single-driver cars crowd the road, the Earth loses – big time.
West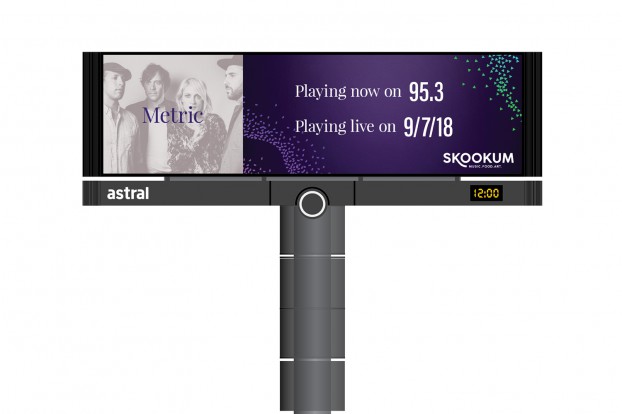 There's nothing quite like the real thing, but there's also something special about jamming along to music from the comfort of your car. Skookum Radio's billboard wants you to have the best of both worlds.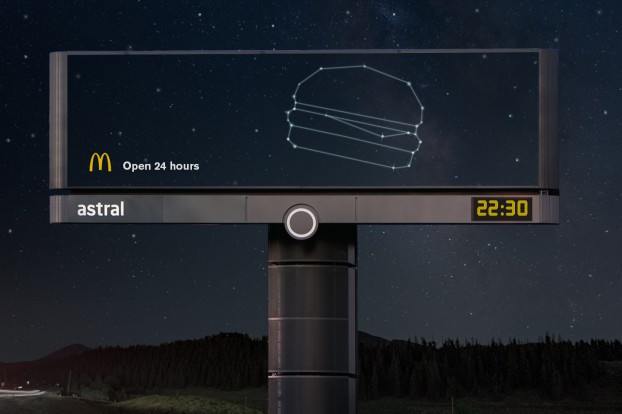 Mid-road trip hunger? McDonalds' entry paints the night sky with burgers and fries to remind you that as long as you're driving, it's open (we cannot guarantee that these are real constellations).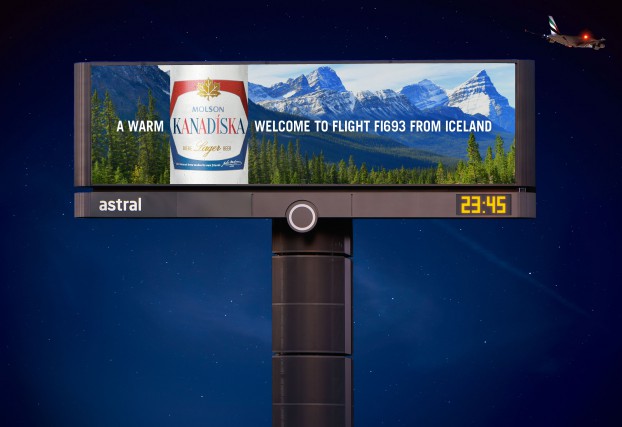 What's the first thing you usually do when you land at your destination? For many people, enjoying some of the local beer is a start. This entry by Molson uses flight data to welcome visitors and suggest they hit the nearest watering hole.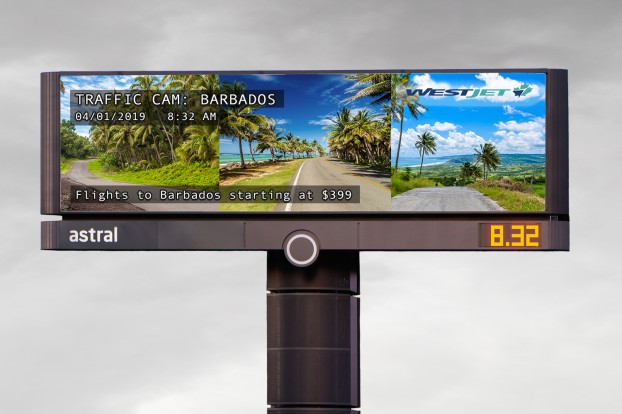 We're going to raise our hands and yell "hallelujah!" at a travel billboard that uses something besides weather data. Not that this Westjet ad is gloating any less, with its spacious depictions of the "traffic" in Barbados.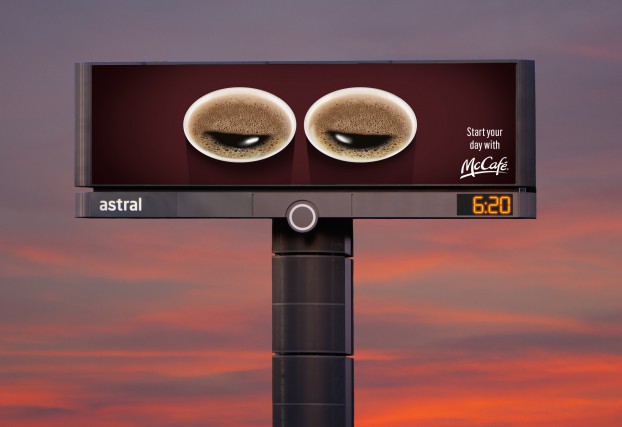 The sun is rising earlier these days, but that doesn't mean we are. This entry by McCafé uses coffee cups to show the time of day – drowsy and heavy at 6 in the morning, bright-eyed and bushy-tailed at noon.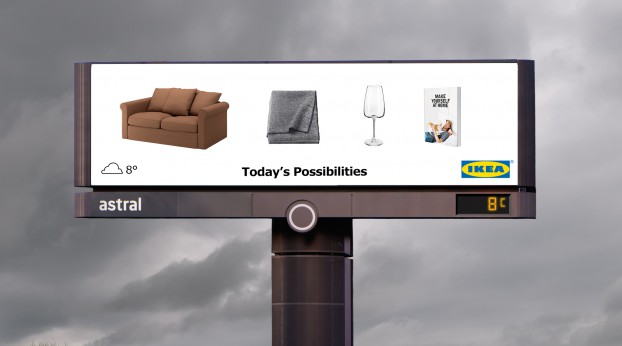 Does a rainy day ever make you want to curl up with a good book and a glass of wine? Yeah, a lot of people feel that way. And IKEA knows it. This billboard changes its suggested purchases depending on the weather. And we have to say, it looks pretty cozy on that couch.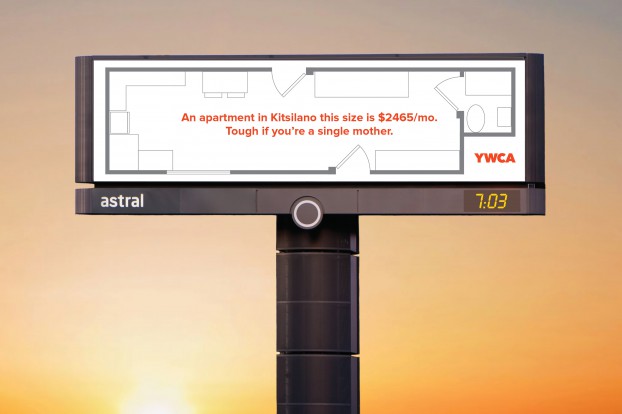 This ad by the YWCA shows Vancouver's competitive rental market by using rates listed on Craigslist and standard one-bedroom floor plans, and adds the perspective of a single mother to draw attention to its cause.