Jennifer Horn
Articles by Jennifer Horn
A blast from TV's past
Canal uses some rather dated innovations to highlight its latest offerings.
A pet's life (in colour)
A connected game console for doggies disproves the theory that Fluffy is colourblind.
Barns make the best sound stages
Symphony in the Barn will have classical musicians performing alongside cows.
A man in a century-old oil painting just took a selfie
What happens when technology gives mid-century paintings a modern-day update at the AGO.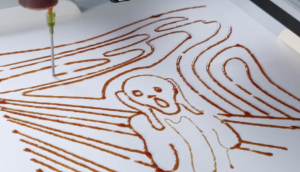 Saucy Mona and other weird condiment creations
Popeyes just created a "Sauce Gallery" that displays artwork created by its very own "sauce printer."