Global
A blast from TV's past
Canal uses some rather dated innovations to highlight its latest offerings.
Michael B. meta
BBDO and DirecTV use weird humour and a millennial celeb to sell new binge-watching options.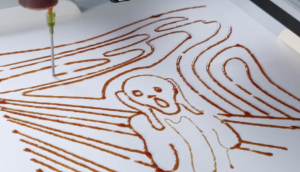 Saucy Mona and other weird condiment creations
Popeyes just created a "Sauce Gallery" that displays artwork created by its very own "sauce printer."
Drake's dad isn't that interesting, but he is real
The rapper is borrowing interest from the "most interesting man in the world" to sell whiskey in spots featuring his old man.
Can you escape Dunkirk?
Jam3 recreates the gloomy war scene as an interactive game for the new Warner Bros. film.
Hacks to beat the heat
7Up repurposes household items (and a few of its pop cans) to make this summer a breeze.
Getting your hands dirty for free internet
In exchange for WiFi, 20,000 people unwittingly agreed to clear sewer blockages, scrape gum off the streets and other unsavoury activities.
SodaStream offers sensible evolution
The brand's crusade against bottled water brings in Big Bang Theory and Game of Thrones stars.
A gum made for flight
Air France crafts some relief for passengers whose ears suffer from cabin pressure.
Geico's Spanish horror scene
The insurance company offers its own take on the running of the bulls.