Passion Projects
Agency axe throwing, for a cause
Ad folk can channel their competitive spirit into helping LGBT youth at the Axe Out Homophobia event.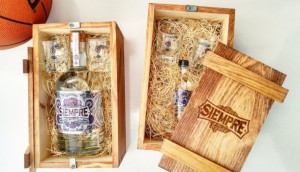 Pick your passion, again
Calling all big-hearted creatives with a Passion Project on the side: show some love for our silent auction.
Canadian Apparel pops up
Why the OneMeth team is getting patriotic for the weekend.
Birthday doodles
Grip turned 15 last week. Instead of giving them cake, it let staffers draw all over its website.
A healthier kind of stress eating
Advertising student Darryl Sinclair's dolls offer a vessel for unwanted anxiety.
Agency Wars, alumni edition
The annual boxing fundraising gala will feature actual Power Rangers and grudge matches.
Veritas thinks outside the box
The PR agency is raising awareness and money for cancer research with a sweatpant line.
That's a spicy rebrand
Taxi's Dave Watson offers his design services to a Toronto chef.
Keeping Trump in 'cheque'
Why is this anti-Trump initiative sending money to the orange man himself?
Giving America a confidence boost
The Garden's project reminds our neighbours that they're already pretty great.