Random Cool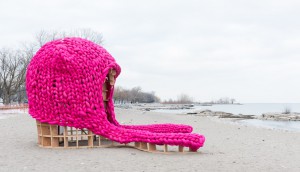 Keeping cool in the cold
Seven "winter stations" in Toronto's Beaches will make you lose your chill.
What does Canada sound like?
Cleansheet created a compilation of the most Canadian sounds from pop music to pure nature.
A little love, light and meditation
Jam3 composes 'Love Lost' to show the day's less saccharine side.
Toronto restaurant hops on the Bitcoin buzz
Figures, which is already known for its eclectic designs, is adding an unconventional payment option.
One minute
Animator Esther Badillo's frenetic tribute to Breaking Bad is cooler than five motorized machine guns.
Wunder's (w)underwhelming gift shop
The agency tested clients' patience with a classic bait-and-switch.
DentsuBos phones it in with its holiday card
For the days when you, too, want to phone it in.
John St. puts another notch in its belt
Hate having to remove your pants-holder after over-eating a turkey meal? Get the E.A.T 2000.
One round of clients, shaken, not stirred
Cundari's holiday card features some client-inspired drinks that actually look pretty darn good.
The truth about Santa Claus
A lot of agencies took a positive, joy-spreading approach to holiday cards this year. And then there's Wax.