Articles Tagged 'burger king'
Burger King chicks its privilege
The QSR teamed up with agency David Miami on the "Chick Tax" ad.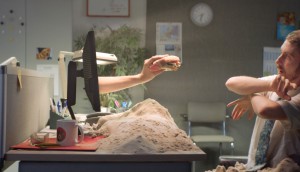 Out of office? Burger King's got you covered
Sorry I can't respond to your email. Have a burger instead.
What would you do for a BK meal?
The ad for Burger Kings in France promotes the new 'Kool King' menu for youth 8 to 12.
Burger King is cool with being the worst
The chain's new campaign in the Netherlands invites fans to grill everything awful, from Crocs to bad gifts.
Time for your burger ultrasound
What to expect when you're expecting a mystery Burger King meal.
A toothpaste to keep burger breath going strong
Burger King France's agency is expanding beyond food and into oral hygiene with a Whopper Toothpaste.
A straw made for two
Burger King made a tandem tube for couples who don't mind sharing.
Not quite a hoverboard (but close enough)
Burger King brings us a bit of Back to the Future with a "Hovertray."
Food for fans
Burger King tests the willpower of football fanatics.