Praying for #poutinemoji
Valentine Restaurants and Lg2 believe the holy trinity from the food Gods deserves its own emoji. Amen.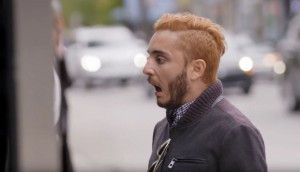 An ad that you'll feel in your bones
Striking ad by Lg2 for SAAQ drives home important message about pedestrian safety.
One thing at a time
Lg2 warns us to save the multi-tasking for the things that matter.
Rock on, baby
Fenplast's windows are definitely heavy metal-proof.
Balls to the wall in Montreal
Show your true colours. And your balls.
Cider is ready for its star turn
Lg2′s redesign of Milton Star ciders is Insta-worthy.
Quebec museum gets futuristic with AR app
The Quebec Musée de la civilisation launched its "My MCQ" app with help from Lg2 and Cortex Studio.
DeSerres paints a new picture
Lg2′s campaign and new positioning for the art supply brand is an ode to the process.
This is not (just) milk
Dairy products and their substitutes are a gateway to countless culinary possibilities, according to a Natrel's new platform.
Who's this ad really talking to?
The Responsible Gambling Commission's new ad does a swift flip of the creative… depending on who you are.