Articles Tagged 'Zulu Alpha Kilo'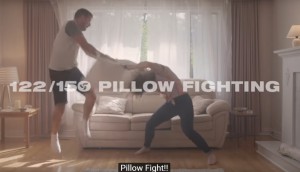 150 ways to play like a Canadian
ParticipACTION releases its anniversary "play list," complete with illustrations and descriptions.
Dmitri rolls over, so you don't have to
Zulu Alpha Kilo is using a sweet pup to do all of its apologizing (and it's working).
Interac's mysterious campaign
Just who is this guy, and why isn't he paying for anything?
Zulu makes a bi-partisan pitch
The agency makes a play for the U.S. market by sending an RFP to Hillary Clinton and Donald Trump.
Cineplex gets creative with popcorn
Will lightning strike a giant bag of popcorn in an empty small town field?
Have fun getting out of the sun
Cineplex and Zulu Alpha Kilo use towel-sized movie tickets to help beach-goers beat the summer heat.
Interac takes on a new pain point
The brand finds the flaws in digging around for cash in its latest campaign.
#SnakeyWakey
Zulu and a bunch of live snakes help illustrate how a can of Venom will make you feel.
Carte Blanche ideas coming to a city near you
Stolen, smoky and smart shelters: these are a few of the industry's favourite things to come true in outdoor ads.
Zulu Alpha Kilo's unconventional hub
The agency's new website is unlike any other. Also, it's totally fake.