Interac's mysterious campaign
Just who is this guy, and why isn't he paying for anything?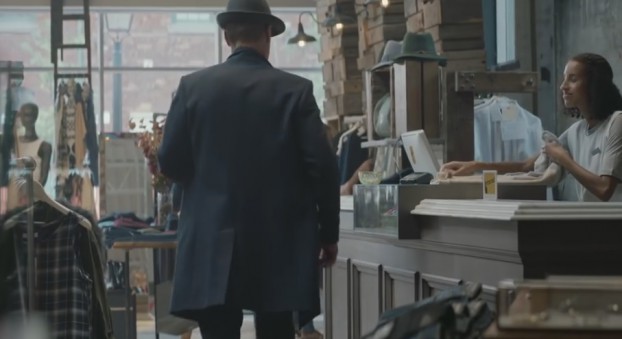 Interac is showing off its innovations while hinting at a possible future of payment tech in a new whimsical campaign centred on an enigmatic shopper.
The new "Mysterious Man" spot by Zulu Alpha Kilo follows the story of a young boy curiously following a man as goes from shops to restaurants, never seeming to pay any of the cashiers or waiters. Who might this important fellow be, if he doesn't need to pay a dime for anything?
Turns out, the guy is just a regular Joe, but one paying in all the various digital ways that are quicker – and less noticeable – than cash or even using a plastic card, like using his smartphone or smartwatch.
The idea is to capture just how far payment tech has come, with a nod to the future of where it will continue to go. Some of what's featured (like the mobile payments and instant e-transfer) are already things that Interac offers, while others, such as the retina scan and payment through a car dashboard app, are a hint at future methods that are "absolutely in the realm of possibility," says Andrea Danovitch, director of marketing and brand.
The new spot falls under the brand's continuing "Be in the Black" platform, with the goal of adding another dimension to the story of how customers can use their own money (rather than credit), she says. As new payment methods continue to develop, Interac wants to tell its own innovation story, while helping customers continue to feel comfortable that the brand is secure and can meet their needs, she adds.
The campaign includes the 60-second film – shot by British director Peter Cattaneo with Corner Store Productions and edited by Zulubot – along with a 30-second version, 10-second versions for social media and digital OOH. Media Experts led media with Tank handling French creative for the Quebec market.