GoDaddy creates itty bitty JV
The website builder is tapping the biggest Raptor to inspire Canadians to launch small businesses.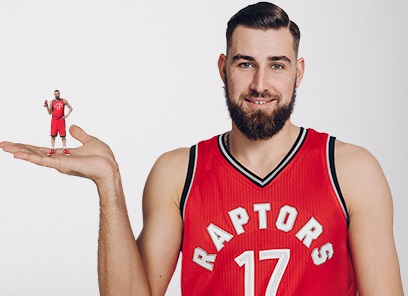 It used to be that bobbleheads, those silly figurines with the oversized noggins, were the ultimate giveaway at Raptors games. Starting centre Jonas Valančiūnas is raising the bar in a new campaign for GoDaddy, with creative by Juniper Park\TBWA.
The Raptors big man, known to fans as JV, teamed up with the website builder to launch IttyBittyBallers.ca, a fake business that makes real JV figurines. Partnering with Toronto's Selftraits, the Itty Bitty Ballers Contest for Small Businesses offers winners the chance to win up to $7,500 for their business by describing what inspired them to launch it. The contest closes Feb. 20.
The JV figurines will also be available for sale, with revenue going to the MLSE Foundation, which helps young people participate in sports.
Selftraits is proving to be a popular novelty tool for marketers. School Editing employed its services for the shop's holiday video.