They never had a chance
Killer snowmen take on Nissan in a Game of Thrones-esque standoff.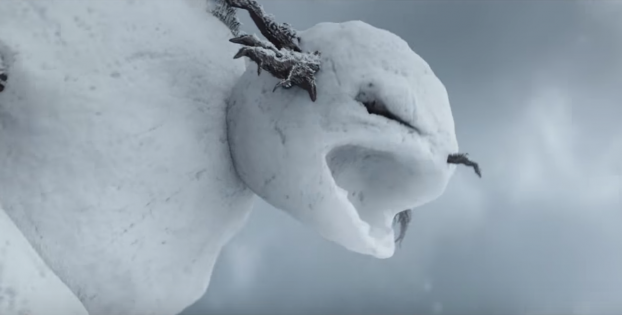 Snowmen are supposed to bring joy, not fear. They're meant to smile in silence, not remove their bulbous heads from their ice-cold bodies and use them as weapons.
Just when we thought the snowmen in Nissan's recurring spot for its Rogue vehicle couldn't get any meaner (not to mention bigger), the brand and agency Juniper Park/TBWA come out with this — a "Return of the Snowmen" spot that depicts a scene of gore and glory not unlike Game of Thrones. 
In the spot, a horde of mean-faced and soulless snowmen are seen charging toward a pack of multicoloured models of the new 2017 Rogue. The warpath is not for the faint of heart, so if you grew up slightly afraid that the snowman your family built outside your house every winter would come alive to terrorize you in the night, maybe skip to the next post.
Credits
Agency: Juniper Park\TBWA
CCO: Alan Madill, Terry Drummond, Barry Quinn
Executive Creative Director: Gerald Kugler, Rodger Eyre
Associate Creative Director: Susie Lee
Copywriter: Marco Buchar
Agency Producer: Karen Blazer
Group Account Director: Calvin Daniels / Mark Dicks
Account Supervisor: Milly Benko
Account Executive: Deanna Coates
Production Co: Sequoia Content (Canada) , Hey Wonderful (U.S)
Director: Cedric Nicolas-Troyan
Executive Producer Sequoia Content: Suzanne Allan
Founder/Managing Director Hey Wonderful: Michael Di Girolamo
Line Producer: Tony McGarry
Director of Photography: Glen Keenan
Editorial Co.: Saints Editorial
Editor: Mark Paiva
Executive Producer: Michelle Rich
Producer: Sara Windrim
VFX Studio: The Embassy
VFX Supervisor: David Casey
CG Supervisor: Michael Blackbourn
FX Lead: Adam Harder
VFX Producer: Danielle Kinsey
Asset Supervisor: Paul Copeland
Production Manager: Annie-Claude Lapierre
Post Production Co: The Vanity
Transfer: Alter Ego
Audio House: Eggplant