Slide, step or shuffle to the debit machine
CIBC and Samsung give you permission to forget your wallet.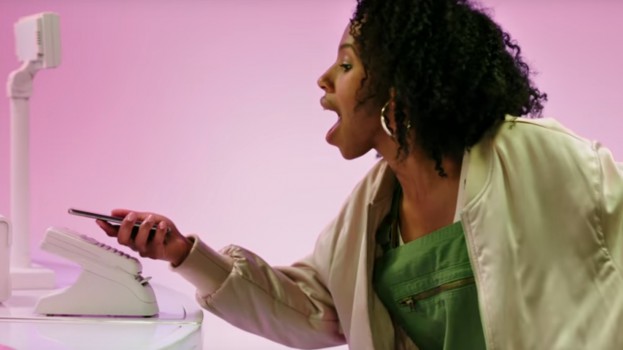 Standing in line to pay and discovering that you've forgotten your wallet is a vulnerable feeling, leaving you strangely exposed, like being naked in a dream. But realizing that it doesn't matter is exhilarating.
That's the emotional roller coaster CIBC is relaying in 15 euphoric seconds over three spots introducing Samsung Pay. Just add wallets to the obituary of once-essential items colonized by cellphones, like maps and Walkmans and eye contact. Now you just need to dance over to the machine and slide, step or shuffle away with your pastel-coloured lattes, cupcakes and caps.
The millennial-targeted ads are also pushing the novelty, with the tagline: "Be the first to enjoy a wallet-free way to pay."
Juniper Park\TBWA handled the creative, with Mediacom on the media buy.
Credits
Executive Creative Directors: Terry Drummond, Barry Quinn, Alan Madill
Group Creative Director: Hylton Mann, Andy Linardatos
Creative Director: Neil Walker-Wells
Copywriter: Brianne Collins, Craig Horning
Art Director: Cassandra Valchuk
Client Services
VP Group Account Director: Shelly-Ann Scott
Account Director: Edoardo Albani
Account Executive: Kristen Lee
Digital
Illustrator: Bea Crespo
Digital Producer: Carrie Weston
Programmer: Brendyn Zachary
Video
Video Producer: Martina Esguerra
Production Company
Production House : Touchpoint Films
Director : Matt Eastman
Director of Photography: Ian MacMillan Executive Producer : Kevin Saffer
Editorial
Editing/ Post House : Offline/Online- Plank
Transfer : Alter Ego (Colourist- Tricia Hagoriles
Editor : Tyler Erdelac
Music Company
Audio House : Pirate Toronto Original music : Stock Music
Sound Engineer : Ian Boddy
Producer : Maggie Blouin Pearl
Who licensed the music : Music Link