Best birthday playlist ever
Move over, mix tapes. Canadian Geographic celebrates our collective 150th with a musical map.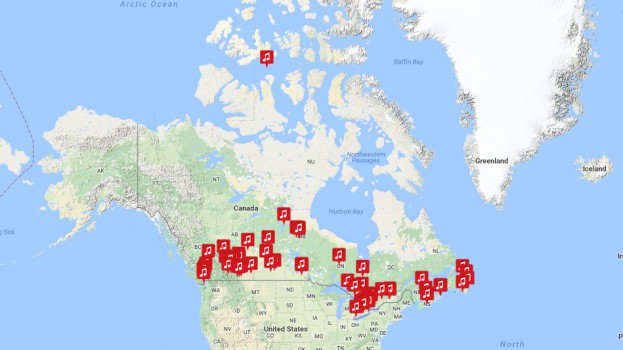 By Bree Rody-Mantha
Did you see the constellations in Bobcaygeon? Do you spend the mornings drinking Kapuskasing Coffee? Do you… hate Winnipeg?
Maybe not, but you may have heard a song about one or more of those things. And that's why Canadian Geographic wants your input. The magazine has launched a new online destination it calls "The Great Canadian Song Map," which flags cities across the country with songs written about them.
Harry Wilson, senior editor with Canadian Geographic, tells stimulant the project is a way to inspire Canadians with songs, well, inspired by Canada.
The project started as a playful idea following the success of the magazine's national bird project in 2015. That project, which set out to find the country's national bird (the winner, by the way, was the whiskey jack — can you think of anything more Canadian?) received more than 50,000 entries according to Wilson.
"It is a part of how we're marking Canada's 150th birthday, but we're hoping it can extend beyond that," he says. "We're hoping it can serve as a database of sorts, a quick reference for some of the country's best music."
While he says the map — which contains more than 65 songs so far — contains much of the expected fare (Neil Young, the Barenaked Ladies and, of course, the Hip), he hopes it can also serve Canadians with new, undiscovered music, such as the original song submission by B.C. singer-songwriter Pat Buckna, "The Bugaboos," named for British Columbia's famous mountain range.
We recommend a nice double-double to go with the playlist.