School of rock
DentsuBos gives the periodic table some attitude.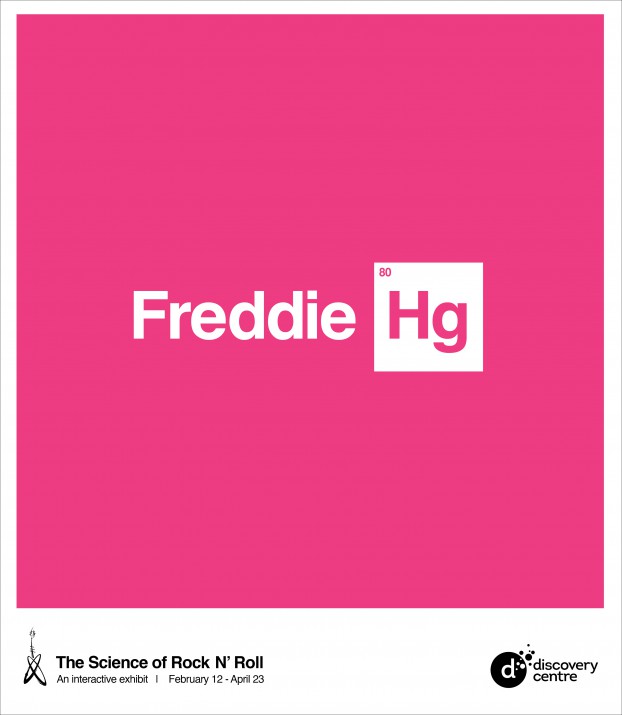 Which rock bands do you consider elemental? A travelling exhibit is staking some claims and offering clues in a print campaign that riffs on the periodic table.
"The Science of Rock N' Roll" is making its way across North American science centres, beginning this week in Halifax. DentsuBos Toronto created an advertising campaign that blends music trivia and science, combining rock stars and bands with chemical elements so that you have to be either a rock fan or science nerd – or both – to get them.
The campaign, which makes use of the periodic table's bright colours, is targeting Gen-X parents and their families.
"As a mother of two myself, we wanted a campaign that would get parents excited to take their kids," said DentsuBos ECD Lyranda Martin Evans in a release. "Allowing the reader to crack the ads taps into the side of them beyond parenthood – the 'I'm a cool mom, not a regular mom' validation we crave."
The exhibit launched Feb. 12 at Halifax's Discovery Centre, with ads running in alternative weekly The Coast.
Credits:
Agency: DentsuBos Toronto
Media: Dentsu Media
Client: Elevation Productions / Discovery Centre Halifax
Executive Creative Directors: Travis Cowdy + Lyranda Martin Evans
Art Director: Travis Cowdy
Writer: Lyranda Martin Evans
Media Planner: Jon Wood