Canadian Apparel pops up
Why the OneMeth team is getting patriotic for the weekend.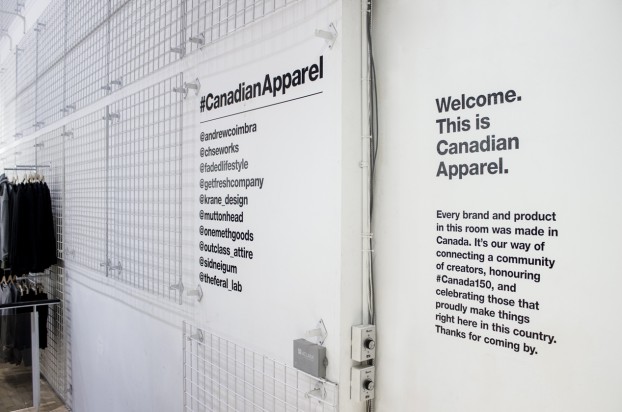 As the saying goes, when one door closes, another opens.
The demise of American Apparel – and its Queen Street location in downtown Toronto in particular – has provided an opportunity for OneMeth Goods and Faded Lifestyle to boost support for Canadian-made fashion brands.
The team at OneMeth – born out of digital agency OneMethod – has set up a weekend-long retail pop-up, dubbed (what else?) Canadian Apparel.
Alongside OneMeth and Faded, the pop-up will be home to several other Canadian-made brands including Andrew Coimbra, c.h.s.e., The Feral, Get Fresh Company, Krane Design, Muttonhead Apparel, Outclass and Sig Neigum.
A personal connection with the downtown building's landlord helped OneMeth snag the two-floor retail space for the weekend. After realizing it was American Apparel's location, the idea of showcasing additional Canadian-made brands came up, says Max Sawka, ACD at OneMethod.
There's definitely growing interest in brands not manufactured overseas, adds Amin Todai, the shop's CCO. It doesn't hurt that Canada – and Toronto – are having a bit of a cultural moment, propelled by current politics, our 150th birthday and talent like Drake and the Weeknd putting us in the limelight.
The pop-up was put together quickly, coming to fruition just three weeks after the initial idea came to be. Whether the initiative will be ongoing remains to be seen, but for now, Canadian Apparel will exist until Sunday.