Brawny plays with gender roles
The paper towel brand has a woman on its package this month.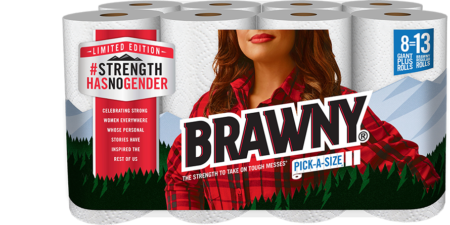 "This is a man's world, but it wouldn't be nothing, nothing, without a woman or a girl."
Many would agree that the lyrics from James Brown's 1966 classic feel a little dated. But in an era where some of the biggest brand personalities are still classic manly-men (see: the Old Spice Guy, the recently revamped, disturbingly sexy version of Mr. Clean), sometimes it feels like the era of mascots is just a little behind the times (even Tony the Tiger is looking more buff these days).
Paper towel-maker Brawny is singing a different tune — at least for one month.
Throughout March (which also happens to be Women's History Month and the month of International Women's Day), Brawny will swap its Ron Swanson-esque, flannel-clad "Brawny Man" character on its packaging for a female character.
Brawny introduced the idea of a "Brawny Woman" last year when it launched its U.S. "#StrengthHasNoGender" campaign, which included digital and broadcast spots centred around female empowerment. The female version of the Brawny Man was featured in the campaign visuals, but this is the first year that Brawny has actually replaced the logo on the packaging.
The full #StrengthHasNoGender campaign is also back this year and the digital shorts cover trailblazing women of history (Harriet Tubman), sports, STEM fields (Cloud4Cancer developer Brittany Wenger) and the military (Venice Armour, the first African-American female combat pilot).
The campaign was conceived by agency Cutwater, which also created an emotionally driven broadcast spot, "Breaking Barriers."
What can we say? We're #WithHer.