Put your feet up, wait for your pie
During this March Madness, your limited-edition basketball kicks can order from Pizza Hut.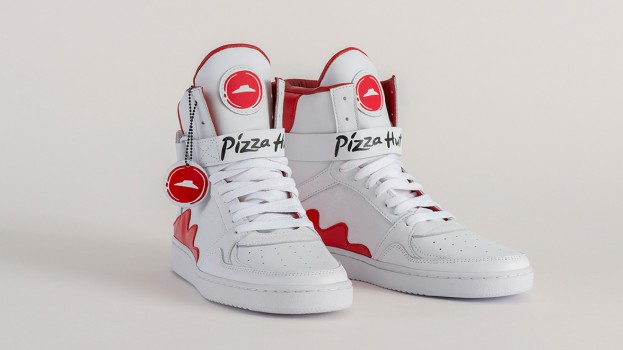 Take a deep breath and concentrate, because there's a lot to take in here.
First of all, it's possible to order a pizza at the push of a button. In 2017, we can probably take that one for granted.
But what if that button were on a sneaker – on the tongue, specifically, conjuring an iconic basketball shoe from the '90s, the Reebok Pump.
Then package the shoe around March Madness college hoops (three of the top pizza-eating weekends in the American calendar), get Duke legend Grant Hill in your spot, and don't skimp on the puns when naming the thing. You end up with Pizza Hut's "Pie Tops."
"Easy as pie," as Hill says in the ad.
Ad agency Droga5′s idea was executed by the Shoe Surgeon, Dominic Chambrone, who made 64 pairs by hand, to match the NCAA tournament's signature 64-team bracket. Pushing the button connects with a special Pie Tops app that orders the pizza.
The campaign highlights the chain's easy ordering, and also pushes a March Madness promotion: a large, two-topping pizza for $7.99.
via Adweek