A soundtrack for the resistance
This interactive music video's easter eggs create a tool kit for viewers to fight social and political apathy.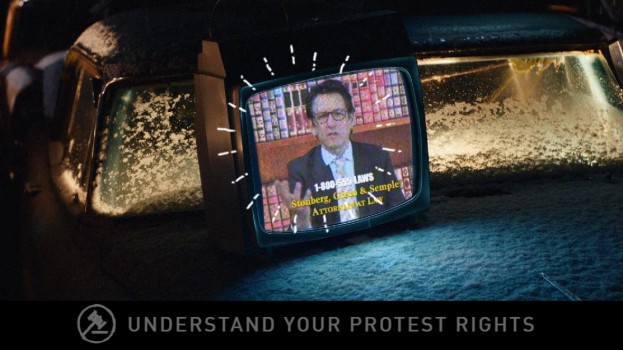 Alaskan band Portugal. The Man officially released a video for their latest single, "Feel It Still," earlier this week. The weird dance moves and burning junkyards feel like standard, if slightly surreal, fare from the slightly experimental rock band. But a look – and a click – below the surface offers a crash course in ways you and I can take action every day.
The video – created with help from Wieden + Kennedy – uses Wirewax's interactive video player to embed 30 different "actions" people can take to resist rising authoritarianism and facism, each one revealed by clicking on a different person or thing in the video. A couple in the back seat of a car will encourage you to help fund Planned Parenthood. A burning copy of a newspaper called "Info Wars" (get it?) will encourage you to fight fake news. While some tips like supporting Black Lives Matter, fighting climate or electing more women are things you might have already been hearing, some are far more direct forms of protest, like learning how to poster your own messages of resistance or keeping tabs on where local demonstrations are occurring.
None of these easter eggs are immediately obvious, which means you'll need to be active and move your cursor over the video, at which point a little symbol resembling a buffering wheel will appear.
Check out the video here, or see the full version over at the site.
If you feel like some of the actions are a bit broad or cryptic, once the video is done, each of the "unlocked" actions will be listed, and clicking them will drive you to a website for a relevant organization so you can educate yourself further or make a donation.