Come on in and pull up a wall
A Dutch firm designs a fuzzy space without chairs or desks to explore the impact on those who work and live within it.
Agencies buy into the "office as expression of personality" philosophy big time. This manifests with cool lighting, game rooms and unnaturally high employee-to-beanbag-chair ratios. But designers at Rietveld Architecture-Art-Affordances in Amsterdam are conceiving office spaces beyond even Barbarian Group's super desk. I mean, you could argue there's no furniture in this space at all.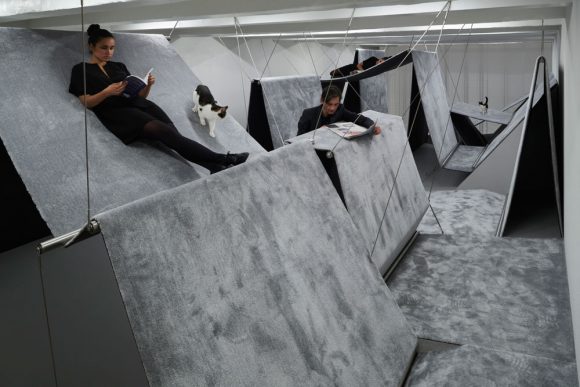 This isn't a real-world design, it should be pointed out. It's an art installation called Breaking Habits, and it's billed as a home (not an office) without chairs. But it's not hard to envision a breakout room at a hotshot creative shop running with this idea, given the architects' past work (see video below).
"This experimental landscape inside a classic Dutch canal house breaks with entrenched living habits," the company says. "Just like our offices and the rest of our sedentary society, our living rooms are filled with chairs, even though medical research has shown that sitting too much is unhealthy."
The designers have been exploring how indoor environments affect workers and families, but with all the supposed health benefits of standing desks getting attention these days, maybe there's a case to be made for a cushy "leaning office."
More pics at the client's site, Mondrian Fonds.
Credits:
Client: Mondriaan Fonds
Design: RAAAF (Rietveld Architecture-Art-Affordances)
Team: Ronald & Erik Rietveld, David Habets, Cecile-Diama Samb
Execution: Schaart Adventures, Koos Schaart & Koen van Oort
Photography: Johannes Schwartz (color), Frederica Rijkenberg (black & white)