Occupy the… Marketing Awards podium?
Canada's top creative directors blast award show politics with a rowdy protest.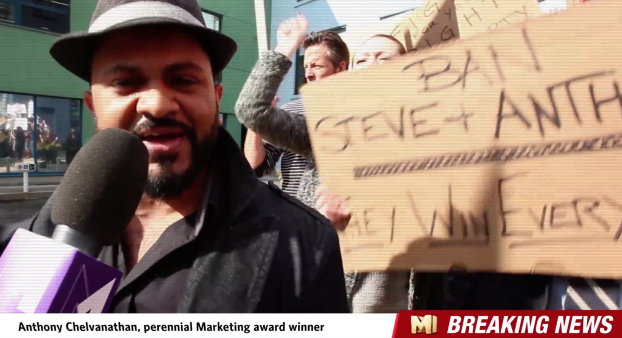 Surprising election results, unfounded claims against predecessors, perplexing conclaves with national leaders — it seems, these days, nothing is fair in politics.
But while the world questions whether President Trump remains compos mentis, creatives in Canada have begun to inquire (in the most dramatic of ways, of course) about the political issues in the advertising awards arena.
Nothing is safe from internal politics, but a new campaign from the Marketing Awards (owned and produced by stimulant's sister pub, strategy magazine), created by agency Zulu Alpha Kilo, aims to show that the program will stop at nothing to keep politics out of the jury room and recognize only the best work.
The campaign began with a print ad in strategy this month, calling for creatives to enter the awards program against an image of the White House – because, as the ad copy reads, "sometimes the entries you think have the least chance end up winning."
To support the print, online banner ads and social posts, the show has also released two spots that feature well-known (and highly decorated) creative directors protesting the general lack of entries from agencies today, with some awards show budgets on the chopping block. The creatives, from Leo's Anthony Chelvanathan to Red Urban's Christina Yu and Rethink's Aaron Starkman, are shown on the streets of Toronto protesting the cuts, and even ruffling their own colleagues' feathers while they're at it.
Credits:
Agency: Zulu Alpha Kilo
Creative Director: Zak Mroueh
Art Director: Andrea Romanelli
Writer: George Ault, Jon Taylor
Account Director: Laura Robinson
Client: Brunico Communications
Clients: Mary Maddever, Kate Wilkinson, Natalya Chernova
Studio Artist: Brandon Dyson, Greg Heptinstall, Ashleigh O'Brien, Andrew Martin
Agency Producer: Jackie Pal, Laura Dubcovsky, Ola Stodulska
Director: Zak Mroueh
DOP: Jay Baker, Laura Friedmann
Production Company: zulubot
Developer: Thomas Schemmer, Justo Tellez, Gillian Black,
Editor: Jay Baker, Michael Headford
Sound: Josh Mancuso