What the kids saw
The Vancouver Aquarium hired an artist to paint its sea creatures as children remember them.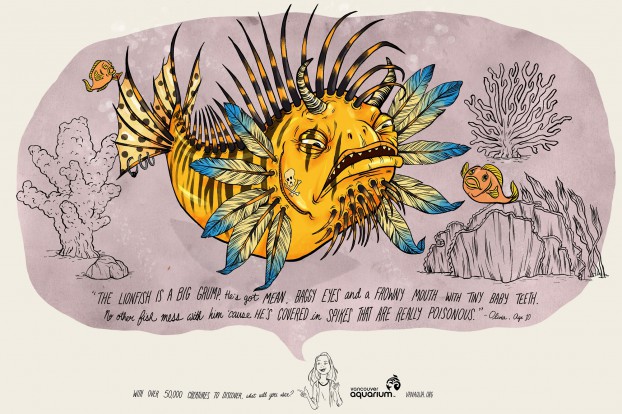 As important as the experience of visiting the Vancouver Aquarium, or maybe even more important, is what kids take away from it. We can all remember the warped views of certain people or things from childhood: the fearsome principal, the creepy basement, the rustling willow tree outside the bedroom window. So imagine what's going on in kids' minds after seeing a lionfish or an axolotl for the first time.
The clever people at the aquarium and its agency, 123w, mined those imaginations for their latest advertising campaign, called "What Will You See?" To capture the sense of awe in all its vivid silliness, Vancouver artist Katie So sought descriptions of what kids had seen at the aquarium, sketching as they offered helpful information such as "His face is really frowny" and "It's kind of like a black fart."
The resulting depictions are displayed in print and OOH ads around the city, with the children's descriptions added in.
The process was recorded, too, and packaged into online pre-roll ads, while radio spots were scripted from the kids' own words.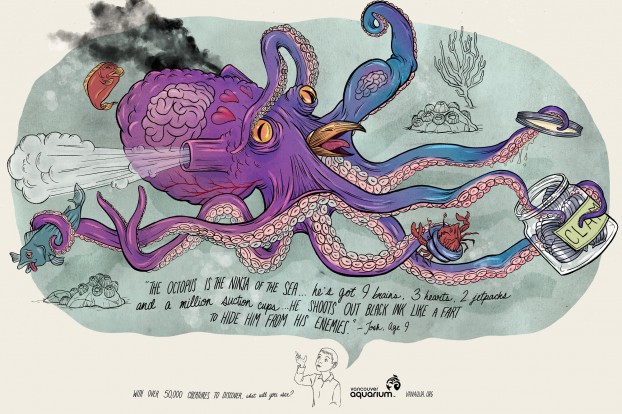 Credits:
Agency: One Twenty Three West
Creative Director: Jeff Harrison, Rob Sweetman, Bryan Collins
Art Director:  Rob Sweetman
Copywriter: Kate Roland
Producer: Karen Martin
Account Services: Karen Martin, Scot Keith
Illustrator: Katie So
Production Company: Vancouver Aquarium
Director: Rob Sweetman
Editor: Daniel Pruger
Audio Mix: Daniel Pruger (Video)
Colourist: Daniel Pruger
Audio House: 6 Degrees (Radio)
Mac Artist: Rob Horsman, Gabe Hall, Rich Parkes
Vancouver Aquarium Client Team: Nick Chan, Louise Bielby