Verizon cuts through the traffic
The brand's HumRider video, by Thinkmodo, offers a fantasy for frustrated drivers.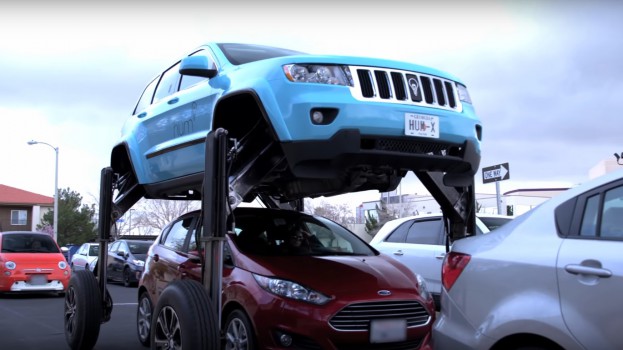 Anyone who has ever spent some quality time inching along the Don Valley Parkway, forced to let a barrage of incoming cars merge in ahead of them as the clock ticks away and they get no closer to the downtown core, has probably had a few fantasies about how much better their life would be if they had a monster truck. And, well, if monster trucks were allowed on public highways.
For those who have dared to dream, Verizon might have had them fooled for a few moments when it released a video for its fictitious "HumRider" on March 20.
Of course, while there is no such car in development (for now), the video, which was the brainchild of viral video agency Thinkmodo, directed viewers to the page hum.com, the landing page for Verizon's new Hum service. The tech system, which integrates a speaker, an OBD reader and the driver's smartphone, brings a WiFi hotspot into the car and, more importantly, connects drivers to a mechanics hotline, on-demand roadside assistance, vehicle diagnostics and other cool services.
That's almost as good as zooming over cars in a HumRider, right?
Pulling users in with Jetsons-esque designs is something of a specialty for Thinkmodo. Last year, it produced its second golf-themed video for Oakley sunglasses, advertising a jetpack golf cart. Along with its hovercraft golf cart from 2012, the videos have gained a combined 10 million views.
While the HumRider is not real, it's worth noting that an even more efficient (and environmentally friendly) concept is currently being tested in northern China: the so-called "super bus" is designed to carry up to 1,000 passengers at once and "straddle" over some of the country's notorious traffic jams. Should the experiment ever get past the prototype stage and make its way to TO, this Stim writer, for one, welcomes our new super bus overlords.
In the meantime, Wi-Fi in the car seems like an OK compromise.