CREA hits the stage
Having a heavy metal festival in your backyard is the latest thing that'll make you go "ooooh."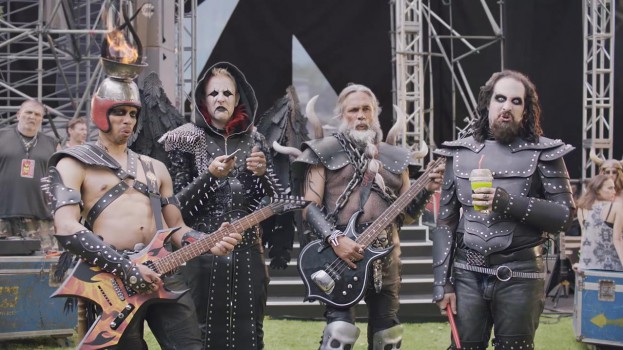 The Canadian Real Estate Association has gotten a lot of mileage from those painful situations you can find yourself in if you don't use a realtor to find your next home, be it getting accidentally raided by a SWAT team, staying in what is clearly a motel from a horror movie or moving in on a bike gang's turf.
This year's campaign shows a couple arriving to their new home, only to find what they thought was their two-acre backyard occupied by a metal festival, complete with pyrotechnics and demonic-costumed musicians. As with past years, when the couple is asked if their realtor told them about an important detail, they say they didn't work with one. And, also like past years, that elicits a universal reaction from the band, backstage crew and a guy in a porta-potty – "oooooh."
Like last year's campaign, CREA is taking a slightly different approach when it comes to pre-roll ads, this time running a 15-second version of the main ad that doesn't use the "oooh" concept but still has our couple dealing with its metal-head neighbours. The campaign also features radio, print, social and digital ads that are driving to the "No Regrets" website, which continues to host video testimonials of slightly more realistic – but still frustrating – situations people found themselves in because they didn't work with a realtor.
Credits:
Brand: Canadian Real Estate Association
Agency: Union
Chief Creative Officer: Lance Martin
Associate Creative Directors: Glen D'Souza, Mike Takasaki
Art Director: Josh Day, Glen D'Souza
Copywriter: Caitlin Keeley, Mike Takasaki
Group Account Director: Kimberlee Welch
Account Supervisor: Sara Spears
Account Manager: Beatrice Dauphinais-Bourque
VP of Innovation: Keefe Lee
Agency Producer: Grace Lee
Production Company: Soft Citizen
Director: Aircastle
DP: Ekkehart Pollack
Executive Producers: Rob Burns
Editor: John Evans
Post Production: The Vanity
Online Artist: Sean Cochrane
Colourist: Andrew Exworth
Sound Design/Music: Keen Music, Voice, & Interactive
Audio Director: Thomas Neuspiel
Audio Engineer: Andrew McCready