That's not Cory Joseph. You're just hungry.
The Raptors guard stars in Snickers' latest ad by BBDO Toronto.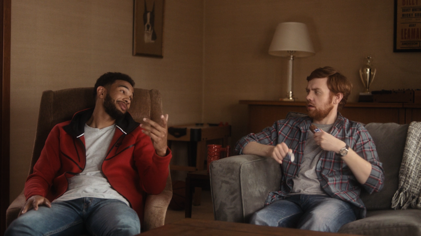 Raptor Cory Joseph is known for being hungry. The back-up point guard springs off the bench to pester opponents on defence and provide a spark when star Kyle Lowry takes a rest.
In some ways this makes him an awkward choice for Snickers' latest "You're not you when you're hungry" spot. CoJo really is CoJo when he's ravenously sizing up opposing point guards.
Fortunately the ad for the Mars brand, by BBDO Toronto, is about fans being hungry and unable to appreciate the action on the court when they're, say, hallucinating about Cory Joseph.
Although, real Raps fans might just welcome the delusion. Wouldn't it be more fun to starve and spend the night watching the game with CoJo?
Pickering, Ont.'s own Joseph, a fan favourite in Raptors nation who also regularly plays for the Canadian national team, has also done commercials for LG.
Credits:
Agency: BBDO Toronto
SVP, Executive Creative Directors: Todd Mackie, Denise Rossetto
Senior Copywriter: Matt Hubbard
Senior Art Director: Mike Schonberger
Account Director: Rachel Selwood
Account Supervisor: Jamie Faltl
Agency Producer: Beatrice Bodogh
Production: Partners Film
Directors: Ben / Dave
DOP: Mikhail Petrenko
Producer: Kellyann Murphy
Editing: Saints Editorial
Editor: Robin Haman
Transfer: Alter Ego
Online Editor: Eric Perrella
Music: Ricochet Audio
Audio Production Manager: Mike Rosnick
Executive Producer: Gigi Realini