Yes very good campaign now
Emerald Nuts gets creative with customer reviews.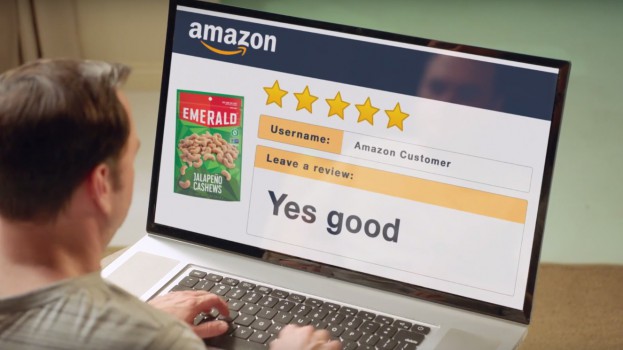 Can you imagine what your campaign would be like if your copy were written by Doge, or perhaps by Homer Simpson?
That may look like the strategy behind Emerald Nuts's latest campaign, which simply stated "YES GOOD" on its static out-of-home ads, along with a small picture of the nuts themselves.
But for those who are confused, or think that maybe Snyder's of Hanover is cutting down on its copywriting budget, fear not: some of the ads come with an explanation. "We liked this customer review so much, we made it our new tagline."
Yes, good indeed.
Beyond the tagline, "Yes good" was also the inspiration for a series of digital shorts entitled A Revue of Reviews, Emerald Nuts's artistic interpretation of various confounding reviews. The short, kooky and often surrealist ads direct viewers to a microsite that pairs the videos with an audio reading of the reviews.
Creative agency Barton F. Graf is responsible for the campaign, although credit truly goes to the unidentified Amazon customer who posted his or her anonymous review on June 6, 2016.