A toothpaste to keep burger breath going strong
Burger King France's agency is expanding beyond food and into oral hygiene with a Whopper Toothpaste.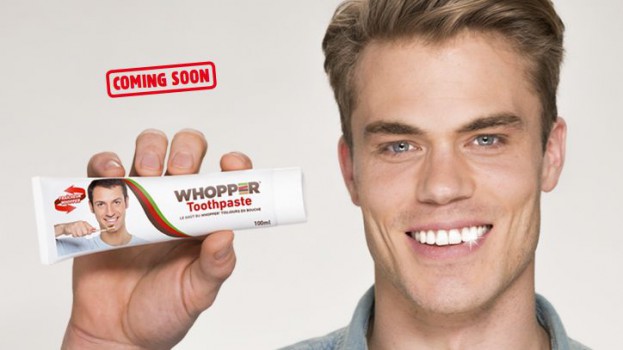 Though it has all the markings of an April Fool's Day prank there are some who are likely hoping that Burger King France is indeed coming out with a Whopper Toothpaste.
Created with its agency, Buzzman, the toothpaste is said to contain "active Whopper extracts" for teeth and gum health. A release on the product said "you won't ever have to hesitate between enjoying a Whopper and brushing your teeth ever again."
According to the release the toothpaste is coming soon to Burger King restaurants and drugstores in France.
Credits:
Burger King
Marketing Director Béatrice Roux
Marketing Project Manager Bérénice Charles
Marketing Project Manager Carole Rousseau
Marketing Project Manager Marine Dupas
Buzzman
President and Executive Creative Director Georges Mohammed-Chérif
Vice – President Thomas Granger
Associate Director Julien Levilain
Creative Director Louis Audard
Creative Director Tristan Daltroff
Copywriter Tristan Daltroff, Louis Audard
Artistic Director Assistants Carole Morlot, Edouard Jacquelin
Account Directors Pierre Guengant, Loïc Coelho, Clémence Gateau, Antoine Boizeau
Head Of Social Media Julien Scaglione
Social Media Creative Director Loris Bernardini
Social Media Managers Marie Le Scao, Elise Lassimoulie
Head of Communication and PR Amélie Juillet
Communication and PR Manager Calypso Asline
PR Assistant Kenza Bennani
Head of TV Production / Art Buying Vanessa Barbel
TV and Print Producer Geraldine Bourguignat
Producer Assitant Saveria Besset
Head of Print Production Dee Perryman
Retouching Jérémy Bouchet
Photographer Clément Duquenne
Film Production Les Improductibles
Director Benoît Pétré