Harlequin's fun with hidden cameras
BBDO Toronto uses a sexy cowboy and Viking to crash reality.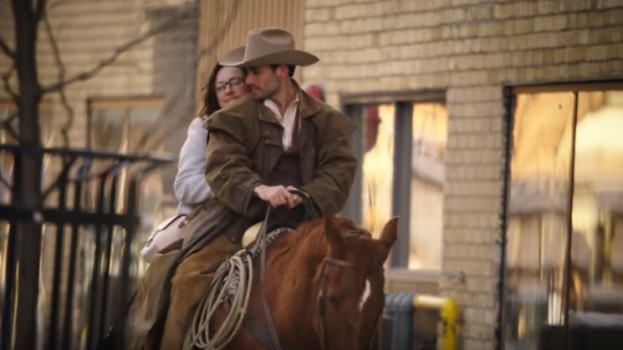 Picking up a Harlequin novel often means escapism but the brand is now disrupting reality more literally.
The romance publisher has interrupted everyday mundanity in its ad campaigns before, encouraging women to embrace their fantasies and find "Romance when you need it."
This time around, the brand and BBDO Toronto took two of the genre's quintessential characters – the sexy cowboy and the Viking – and had them take real women on "dates" in a café and bowling alley, using hidden cameras to capture the reactions of the patrons around them.
We're reading those looks of incredulity and confusion as jealousy.
Credits
Client: Harlequin Enterprises
Creative Director, Romance Fiction: Tony Horvath
Senior Director of Marketing, Series
Digital Publishing: Farah Mullick
Director, Romance Publicity and Events: Michelle Renaud
Brand Manager, Retail Marketing: Beth Witkowski
Agency: BBDO Toronto
SVP, Executive Creative Director: Denise Rossetto
SVP, Executive Creative Director: Todd Mackie
VP, ACD, Art Director: Joel Pylypiw
VP, ACD, Copywriter: Chris Booth
Broadcast Producer: Tracey Azzopardi
Account Director: Paul Forrest
Account Supervisor: Zach Kula
Production Company: Circle Productions
Executive Producer: Andria Minott
Director: Timothy Hamilton
DOP:  Doug Koch
Producer: Erica Parks
PM: Warren Milando
Post House: Saints Editorial
Executive Producer: Stephanie Hickman
Editor: Stephen Sora
Audio House: Grayson Matthews
Producer: Kelly McCluskey
Casting: Shasta Lutz, Jigsaw Casting