Bringing live theatre to film
Send+receive's spots for the Afghan Women's Organization turn a negative situation into a positive one in a single take.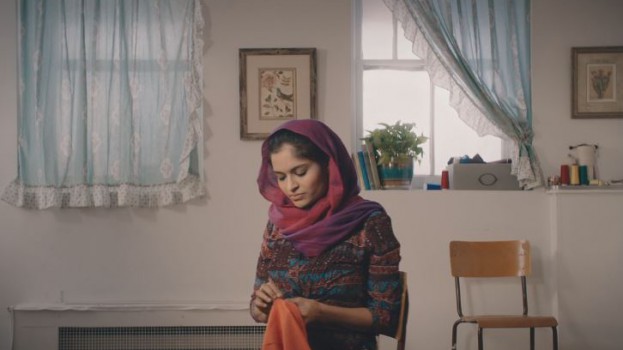 A grey-haired, olive-skinned woman sits quietly by the window, pressed up against the warm radiator of her home in Canada. She looks into the distance, peering through the window and, at one point, shows some excitement as though she recognizes someone outside. The moment quickly fades as she comes to the realization that she's alone in her new home, in her new country.
So goes the tale (as shown in the spot below) for many female Afghan refugees in Canada. While the country has become a safe haven for new settlers, the process of preserving one's identity and culture is difficult. But that's where the Afghan Women's Organization (AWO) comes in.
After the older woman's dreams of seeing a loved one through the window are thwarted, the spot shifts to a more positive tone, showing a group of women joining her with refreshments and conversation as part of the organization's peer support services. Two more scenes follow in additional spots with the similar creative film treatment, which takes inspiration from live theatre to feature the different community-based solutions (such as job and language skills training) offered to refugees.
"In a simple way, we wanted to show how transformative AWO's work really is," said JP Gravina, partner and CD at send + receive, the agency behind the TV commercials, produced by Someplace Nice. "The spots show how these volunteers actually change people's lives."
"To keep it authentic, we decided to use the volunteers themselves as part of our cast. Everyone was excited to be involved," added Simon Craig, partner and CD at the shop.
The spots debuted April 1 and will continue to run through to December 31.
Credits:
Client: Afghan Women's Organization
Agency: send+receive
CD/AD: JP Gravina
CD/CW: Simon Craig
Planner: Andrew Carty
Agency Producer: Sam Benson
Production Company: Someplace Nice
Executive Producer: Chilo Fletcher
Director: Sean McBride
DOP: Andy Ferreira
Line Producer: Jennifer Walker
Editorial Company: Saints Editorial
Editor: Cam Lasovich
Saints Producer: Sara Windrim
Post Production Company: Alter Ego
Colorist: Tricia Hagoriles
Flame Artist: Steve McGregor
Alter Ego Producer: Caitlin Schooley
Casting Company: Jigsaw Casting
Casting Director: Shasta Lutz
Audio House: Vapor RMW
Music/Sound Director: Joey Serlin
Audio House Producer: Kailee Nowosad
Sound Engineer: Julian Rudd