A small step to stop bullying
Cartier's campaign for Quebec's Ministere de la Famille shows how simple gestures can make a world of difference.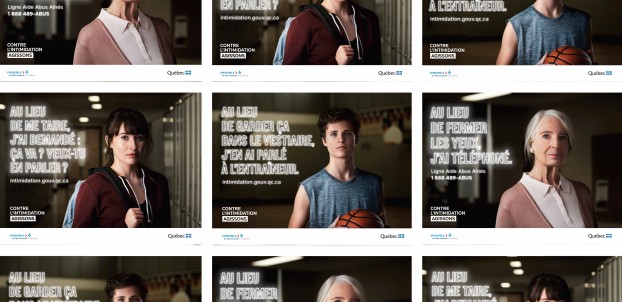 A new campaign by agency Cartier for the Government of Quebec's Ministère de la Famille aims to show us that putting an end to the bullying we see in our everyday lives might be easier than we think.
In print posters (above) and a TV spot (below), the message is clear: it might be easier to do nothing when we see someone getting bullied or harassed, but change only happens when we make an effort (no matter how small) to stand up for what's right.
Where the campaign gets a bit more inventive is in a series of digital banners currently running on French-language websites across Quebec. The display ads show a range of different people looking obviously sad and down, but when someone hovers their cursor over the ad, the person cheers up, with a smile appearing on their face and the headline "Un geste peut faire toute la difference" ("One gesture can make all the difference") appearing at the top of the banner.
Credits:
Advertiser: Ministère de la Famille (MFA)
Marketing team: Stéphanie Jourdain, Véronique Auger, Catherine Roberge
Agency: CARTIER
Media: Challenge Média et Manuri Média
Production House: Les Enfants - Yves-Christian Fournier, Emmanuelle Bérubé
Sound: Cult Nation
Studio photography: Consulat – John Londono