It's never too latte to go upscale
Tim Hortons infiltrates a trendy neighbourhood to promote its new beverage.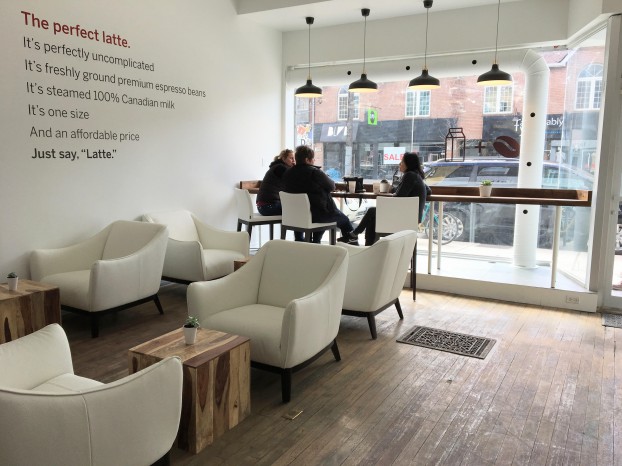 A pop-up café in a trendy Toronto neighbourhood has revealed to its patrons that they've actually been drinking lattes from the country's largest coffee chain.
On April 5, a coffee shop called "Perfectly Uncomplicated Lattes" opened in Toronto's Queen West neighbourhood, home to the type of people who would self-identify as "coffee snobs." The café – which took the small business route in promoting itself, using nothing more than social media accounts to push its impending opening – appeared to pride itself on the simplicity of its drinks, using nothing more than espresso beans and steamed milk to let the quality of the coffee stand on its own.
Today, it was revealed that while the emphasis on a simple latte remained, the coffee shop was actually from Tim Hortons when its logo was put up on the signage and decor. To celebrate the reveal, the café will be giving out free drinks all day today.
Ogilvy was the creative agency on the campaign and worked with Geometry Global to launch the pop-up, with Citizen Relations on PR and North Strategic handling digital.
The reveal of the cafe is to promote the impending release of Tim Hortons' new latte nation-wide on April 26, after testing in Vancouver and London locations late last year.
Tim Hortons made its first attempt to compete in the more upscale coffee market in 2011 when it began selling cappuccino and lattes. However, those drinks were made from powdered mixes, whereas the new lattes are made from fresh ground beans and steamed milk. They are also made with new espresso machines that have been purchased by over 3,500 restaurants across Canada, which The Globe and Mail reported last year cost $12,000 each.
The move comes as Tim Hortons' competitors in the coffee space have also made moves to bring a more high-quality offering to customers. For example, Starbucks has made efforts to improve the quality of the beans it sources, while McDonald's has been investing in its McCafé brand, including launching stand-alone McCafé locations.
While Tim Hortons is responding to demand for higher-quality coffee, the emphasis for the new latte – as the café execution suggests – is around simplicity, bringing premium beverages to Canadians more comfortable in a more mainstream restaurant than a high-end coffee shop.
The café will remain open until April 26, and all proceeds from sales will go to the Tim Hortons Children's Foundation.