Endless love
Sid Lee's campaign for FitSpirit urges teenage girls not to break up with sports.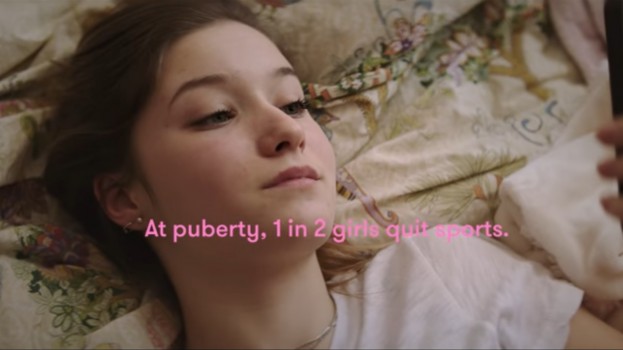 "Don't quit me, Maya," the voiceover says near the end of Sid Lee's video for FitSpirit, a non-profit dedicated to helping teenage girls stay active.
The male voice has been delivering a sermon of the jilted, with all the familiar lines. "I know I'm not perfect," he says. "I push too hard. I ask for a lot. I know I've hurt you. But you can't deny we've had some amazing times together."
Maya, a teenage girl, looks forlorn as she lies on her bed, checking her phone. Flashbacks alternate between scenes of bliss and strife, while the voice reminds her of all the good times they shared. "Nothing matched that feeling of your heart beating next to mine," he says.
The kicker appears on the screen in pink script after the voice's final plea: "At puberty, 1 in 2 girls quit sports." Maya is back on her bed, and the text on her phone is from a teammate: "Let's go!!!"
FitSpirit promotes sport as part of a balanced lifestyle and a source of self-esteem. The campaign is looking to change the statistic by positioning girls' relationship with sports as a love story that doesn't need to end.
"We thought it would be interesting to wrap that message in a teen romance where sport is the one asking for a second chance," Brian Gill, CD at Sid Lee, said in a release.
Credits:
Advertiser: Fillactive (FitSpirit)
Marketing team: Claudine Labelle, Manon Durocher, Marie-Claude Gauthier-Fredette
Agency: Sid Lee
Creative Director : Brian Gill
Copywriter : Aurélien Liguori
Art Director : Alexandre Burt-Riley
Strategy Director : Elana Gorbatyuk
Strategy : Sonya Mahcine, Laurianne Normandin
Account Director : Vanessa Audigand
Account Management : Céline Boubekri
Agency Producer: Magali Loiselle, Lysianne Bellemare, Janie Delorme
Executive producer : Daniel Laforest, Daniel Leblanc
Coordination production: Elise Lussier, Laurence Houle
Director : Sébastien Duguay
Editor: Sébastien Duguay, Xavier Lévesque
Production Company: Radio Canada
Post-Production: Radio Canada
Music and Sound Design: Cult Nation
Print Photographer: Raphael Ouellet
Prints Touch-up and Graphic Designer: M&H Infographies
Print Typography: Julien Poisson
Designer (new brand identity): Isabelle Allard-Gendron
Designer (new brand identity): Jean-Michel Mercier
Media Strategy: Sid Lee Media – Gabrielle Côté, Geneviève B. Roy