Shake on it with a robot
Kelley Blue Book creates an android that brings the personal touch back to making a deal.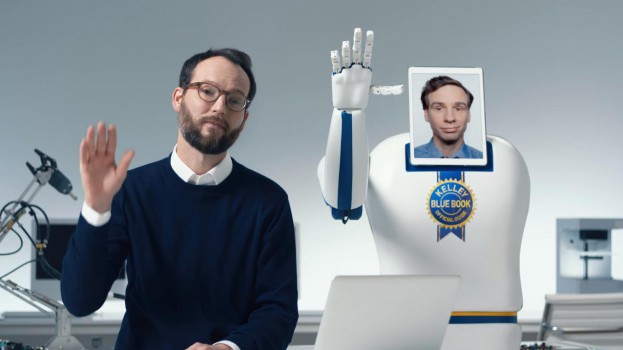 For those who are not familiar with the auto buying and selling world, Kelley Blue Book has been considered the definitive guide in determining the value of used cars for nearly 100 years. Earlier this year, it modernized itself a bit by launching an Instant Cash Offer service, which allows users to enter all the information from their car and receive an offer from a participating dealership.
The problem with making a deal on a mobile device is that it robs you. To address this, Kelley Blue Book and ad agency Zambezi created the Haptic Android Navigable Dealmaker (H.A.N.D.), a robot quite literally armed with a hand and a video screen. Once someone makes a deal, it creates a video chat, letting the seller look a buyer right in the eye as they shake on the deal, just like the good old days.
This video makes the service seem more like a parody of announcements from other companies about their latest "next generation" tech. But the H.A.N.D. prototype was actually making the rounds at the Cleveland Auto Show in February, with a creative director at Zambezi telling AdWeek he'd like to create more to deploy at other auto shows across the U.S.