Who did the best with Carte Blanche?
Meet the winners of this year's Toronto and Western Canada competitions from Astral Out of Home.
Out-of-home doesn't mean staying inside the box, as the latest round of winners from the Carte Blanche for Creatives competition shows.
Held by Astral Out of Home (part of Bell Media), this year's competition drew 272 ideas from across Canada. Entrants were asked to create an original ad for the "digital superboard" format for one of their agency clients.
The grand prize winner in the Toronto market went to a team at Cossette (copywriter Jordan Hamer and art director Spencer Dingle) for their "Please Pull Over" idea for SickKids. Using live GPS data, the ad would send a message to drivers to pull over as ambulances make their way to the hospital.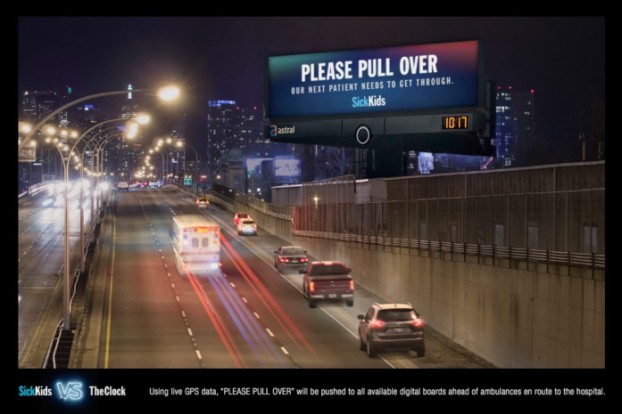 In the Western Canada market, copywriter Kate Roland and art director Garret Schauteet from 123w took the top prize for their concept for the Vancouver Aquarium, which placed the word "metres" above the time on the OOH board, with the concept that the deeper you go, the more there is to discover.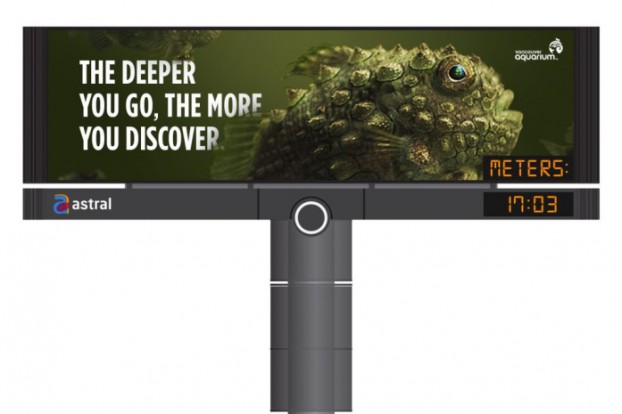 The grand prize winning teams will travel to The Cannes Lions International Festival of Creativity this June, and their clients will receive a $50,000 campaign on the Astral Out of Home Digital network.
The Carte Blanche winners from Montreal are yet to be announced, but for now, see the list of the top three from Toronto and Western Canada.
Toronto
Grand Prize: "Please Pull Over"
Client: SickKids
Agency: Cossette
Copywriter: Jordan Hamer
Art Director: Spencer Dingle
2nd Place: "Traffic Cam"
Client: FujiFilm
Agency: Dentsubos
Copywriter: Tim Morrison
Art Director: Michelle Orlandi
3rd Place: "One Less Screen"
Client: ParticipAction
Agency: Zulu Alpha Kilo
Copywriter: Jon Taylor
Art Director: Andrea Romanelli
Western Canada
Grand Prize: "Ocean Depth"
Client: Vancouver Aquarium
Agency: 123w
Copywriter: Kate Roland
Art Director: Garret Schauteet
2nd Place: "Molson Welcome Board"
Client: Molson Canadian
Agency: Rethink
Copywriter: Sean O'Connor
Art Director: Melissa Haebe
3rd Place: "The Route Beer Billboard"
Client: A&W
Agency: Rethink
Copywriter: Alex Bird
Art Director: Vic Bath