Farmvertising at its finest
What better way to promote your company's sustainable processes than with a giant hog carved in a field?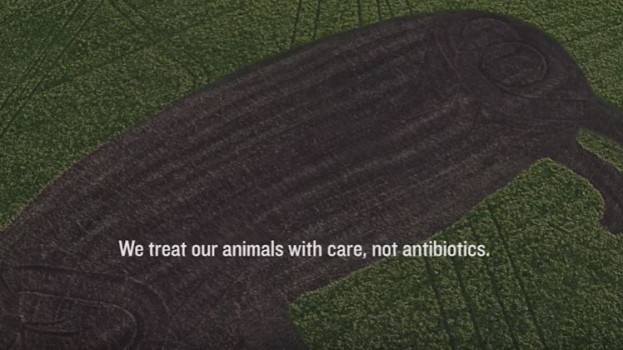 Billboards visible only from the skies – we guess they're a thing now.
Greenfield Natural Meat Co. has it's own aerial-view announcement, one that puts its ad money where its animals' mouths are.
In the one-minute, Havas Canada-created spot below, watch as the Manitoba-based company teases at its mission – "we have more than a product,we have a purpose…to make the world better, by making meat right" – between sun-kissed shots of what appears to be a routine hay plough by a local farmer at the crack of dawn.
Just when you think you've seen this spot before, the camera pans out and shows a scene that might otherwise seem cliché (as we start to tire of crop ads). But because the farmer carves statements like "Made by nature, not antibiotics," it feels less over the top. That's because it's everything the brand stands for: a meat company that works to do everything naturally, even its advertising. Apparently, Greenfield purchased carbon offset credits to eliminate the effects of the equipment (drones and helicopters) used to make this film.
The spot has been running in both Canada and the U.S. (specifically in Florida and Chicago), on social and digital, with an OOH component.
Credits
CCO: Helen Pak
VP Creative Director: Cory Eisentraut
ACD: Brian Allen
Art Director: Peter Gomes
Copywriter: Dave Pigeon
Agency Producer: Francesca Marchese
VP Strategies and Integration: Patrick Hotte
Account Manager: Sarah Rosen
Executive Producer: Michael Corbiere
Director: Ryan Gibb @ Nimble Content
Line Producer: Kyle Welton
Editor: Ryan Hunt
Colourist: Trisha Hagoriles @ Alter Ego
Flame Artist: Mike Bishop & James Marin @ Fort York
Sound & Music: Eggplant Music & Sound
Songwriter: Brock Tyler