BC Hydro gets wired
A new safety campaign turns the subject into art.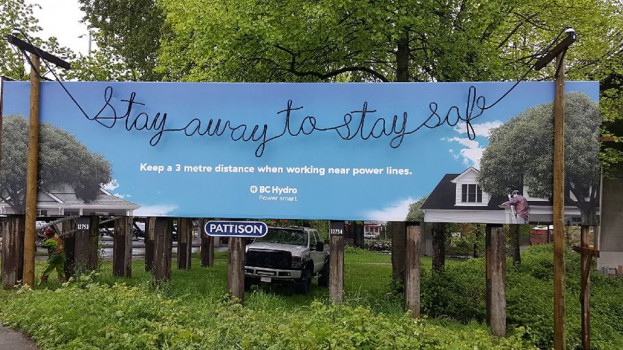 BC Hydro is no stranger to safety campaigns, but its latest effort to raise awareness about power line safety has added a creative twist. Actually, it's added a few twists.
The "Stay Away to Stay Safe" campaign urges Canadians to keep at least three metres away from power lines when working. A billboard on Vancouver's Granville Island delivers the message using the wire itself, strung across the billboard in a cursive font.
It was a result of a collaboration between BC Hydro, Taxi and Media Experts. A digital video expanding on the message was also created.
The billboard will remain for a few more weeks, with the campaign ending June 30.
Safety campaigns in Canada have a history of being dark and even slightly haunting – such as the Electrical Safety Authority's frank "#RespectThePower" campaign and Prevent-It.ca's borderline-terrifying advertisements on preventable workplace accidents in the early 2000s.
The simplicity of BC Hydro's message – frank, but with no traumatizing scare tactics – combined with its creativity brings a cool new  take to classic campaign objectives.