Girl, uninterrupted
GirlTalkHQ and BBDO Toronto breathlessly tackle "manterrupting."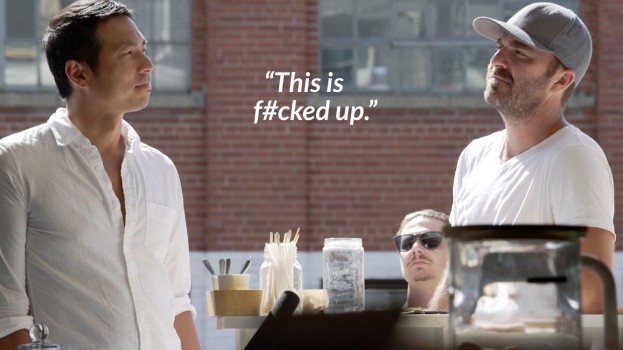 Fellow women, it's not in our heads.
If you feel like we're being constantly interrupted by men when we speak, you're not alone.
News site GirlTalkHQ and BBDO Toronto are calling attention to such "manterrupting" (the cousin of our other enemy, "mansplaining") with a new radio spot. As "Uninterrupted" unfolds, we hear a woman explaining – breathlessly, for fear of being cut off – that studies show how being interrupted is not, in fact, a product of our imaginations but a real problem. For example, statistics suggest men dominate 75% of the conversation during business meetings and that patients interrupt female doctors twice as often as male ones.
The spot follows GirlTalkHQ and BBDO's stunt last fall to shed light on the "Pink Tax" – a term for the fact that women pay 43% more for comparable items than men.
Credits ("Uninterrupted")
Client: GirlTalk HQ
Creator & Editor-in-Chief: Asha Dahya
Creative Agency: BBDO Toronto
SVP, Chief Creative Officer: Denise Rossetto, Todd Mackie
Senior Copywriter: Jamie Spears
Senior Art Director: James Leake
VP, Group Account Director: Rebecca Flaman
Agency Producer: Beatrice Bodogh
Audio Production: Ricochet Audio
Audio Production Manager: Mike Rosnick
Credits ("Pink Tax")
Client: GirlTalk HQ
Creator & Editor-in-Chief: Asha Dahya
Creative Agency: BBDO Toronto
SVP, Chief Creative Officer: Denise Rossetto, Todd Mackie
VP Associate Creative Director: Derek Blais
Art Director: Jess Toye
Copywriter: Britt Wilen
VP, Group Account Director: Rebecca Flaman
Production Company: Mad Ruk
Director: Michael Lavers
Director of Photography: Dmitry Lopatin
Executive Producer: Andria Minnot
Assistant Producers: Gabby Morton Jones, Iva Golubovik