Sponge-worthy business cards and designer basketballs
OneMethod gets a makeover for its sweet 16.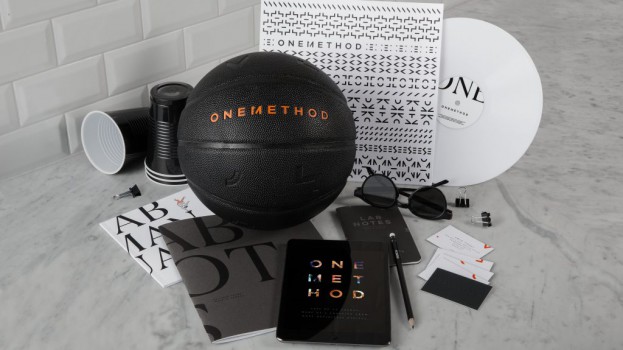 They've gone from a Mississauga condo to new digs in the CBC building. So after 16 years of making ads, clothing, tacos and ice cream, OneMethod (part of Bensimon Byrne) decided it was time for a rebrand.
The agency's new logo builds on the idea of taking things apart and putting them back together. The signature element is the M in Method, which incorporates the number 1.
"This would keep the lockup really clean and avoid us having to float an icon somewhere around a separate wordmark," the agency explained in its online description of the process. "While we were chopping up letters and shapes, trying to find a solution, we noticed how interesting some of the parts looked on their own and what those parts could stand for in a larger brand system."
So the logo was exploded into pieces, which "represent what OneMethod is all about, a bunch of different folks with different skillsets, that fit together under one method to create creative things."
Oh, and they also made some fancy business cards (so fancy each person only gets five, numbered like an art print, so they have to be very discerning in determining who is "sponge-worthy," as they put it). The full collection of cards across the entire staff comes together like a puzzle. And since the new Wellington Street office has a basketball court, they designed a special ball.
You can read more about the rebrand here.