Thanks, Canada
The country gets a global pat on the back from Spotify users for making damn good music.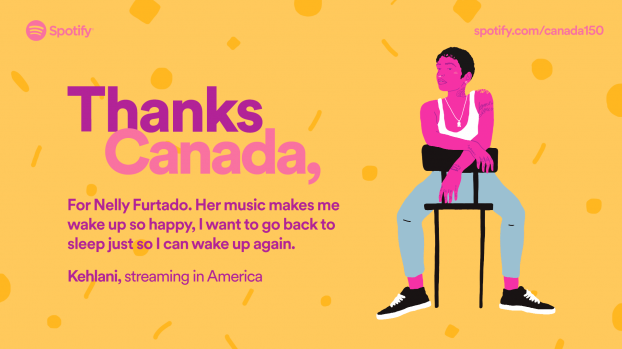 Nothing says "you did good, Canada" like messages from our global peers saying thank you for asking "What Do You Mean?" in every shopping centre, club, bar and car for the past couple years (yes, we still hear Biebs telling us that we want to say no, but we nod our head yes in the changing room at H&M).
Spotify is sharing the love directed at Canada for introducing the world to the likes of Justin Bieber, The Weeknd, Leonard Cohen, Joni Mitchell and others in a new campaign for the country's 150th.
The "Thanks, Canada" ads roll out this week in posters, digital OOH, wild postings and in online films with messages from Spotify users in countries as far away as the Philippines and as close as America (even some famous ones like musician Kehlani, for example, who thanks us, and Nelly Furtado, for allowing her to take naps all day.)
To top it off, and really give fans what they want, the music streaming service has also created unique Canada 150 playlists that represent the very best in Canadian music.