Travel selfies on a budget
Delta Air Lines finds a way to add interest to millennials' dating profiles, no plane required.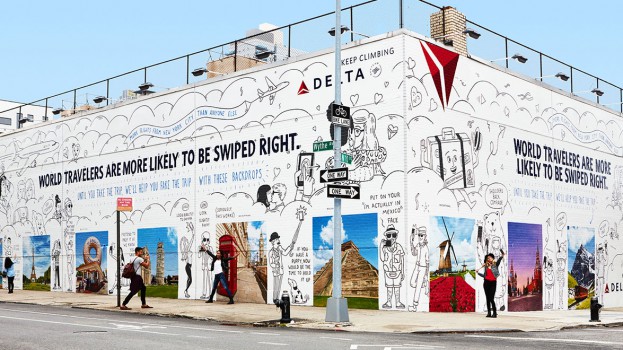 It can be hard to make oneself look interesting on social media, especially when you're on a budget.
But Delta Air Lines has millennials' backs (or at least it does for those in NYC). The airline and agency Wieden + Kennedy New York teamed up on an artistic mural in Williamsburg, Brooklyn, posting scenes from nine global destinations on a wall to make selfie-taking – without leaving the neighbourhood – a snap.
Alongside the printed photos on the "#DeltaDatingWall" are adorable drawings of other destinations, illustrating the various places Delta actually flies, for those willing to book a ticket and get a real-deal selfie in, say, London or Paris.
A bonus for singletons: Delta and Tinder have also teamed up on an event June 17 where dating wall visitors can get a professional "travel" shot in front of their image of choice. After all, every good relationship begins with some untruth, right?
Via AdWeek
Credits:
Client: Delta Air Lines
Project: Delta Destination Walls
Agency: Wieden + Kennedy New York
Executive Creative Directors: Karl Lieberman
Creative Directors: John Parker & Sean McLaughlin
Copywriter: Ian Hart
Art Director: Jess Shriftman
Account Team: Liz Taylor, Jacque Parrish, Jasmina Almeda, Kerry O'Connell
Planning Director: Sean Staley
Strategist: Cristina Pansolini
Executive Producer: Jen Vladimirsky
Head of Production: Nick Setounski
Art Buying: Yukino Moore
Photographer: Kristin Gladney
Social Director: Jess Breslin
Social Strategist: James Williams
Business Affairs: Patrick O'Donoghue, Carla Curry, Lindsey Timko
Project Managers: Jason Pelton, Ashlea Ramirez
Senior Print Producer: Leigh Ann Dykes
Dating Wall Illustrator: Andrew Rae