Who's a good beer?
To promote the third season of CraveTV's Letterkenny, producers rolled out the world's cutest beer.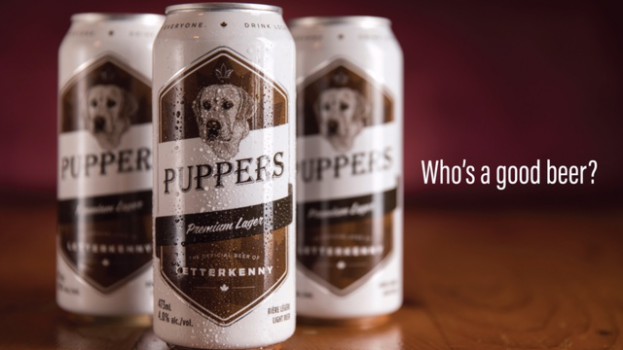 A brief lesson in dogs:
All dogs are doggos. Some dogs are puppers (although not all puppers are "smol"). All puppers are doggos, but not all doggos are puppers.
Of course, if you're a fan of the CraveTV original Letterkenny, you also know that Puppers is a brand of beer, one consumed heavily by all of the town's residents, from the hicks to the skids and the hockey players. Now, the once-fictional brew is being offered up as a summertime promotion for the show.
Show producers New Metric Media paired with Sudbury brewery Stack Brewing Corp, along with Play Fun Games Pictures and DHX Media to create Puppers Premium Lager. The brew will hit the shelves at the LCBO on June 29.
The idea for the beer came to the show's writers while hammering out ideas for the upcoming third season, which featured the town's official beer (and catchphrase, "Who's a good beer") in its storylines. After coordinating with Stack Brewery in Sudbury, the northern city where the series is filmed, producers realized that the beer could become a reality. The lager is adorned with the face of a proud pupper, and is described by Stack Brewing as "a faithful friend that will always be by your side. Pure. Loyal. Golden." Now that's a good doggo!
Unlike the fictitious Puppers, which is 7.2% alcohol, the real Puppers is a 4% beer, so have no "frighten."
To mark the launch, cast members of the show will appear at public tasting events in both Toronto and Sudbury on June 29 — right in time for Letterkenny's season three premiere (no word yet on whether or not any puppers will also be featured).