An equal playing field
ESPN W used broadcast and out of home to demonstrate the gender inequality in sports.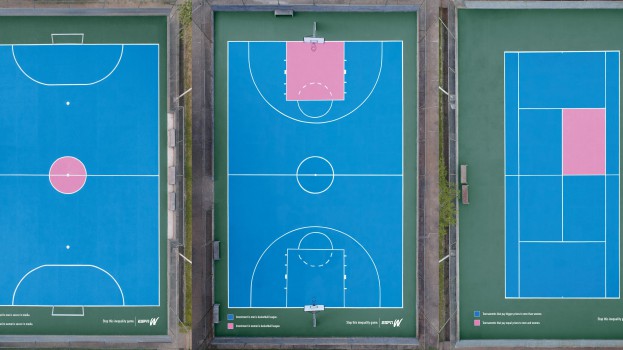 "People call me one of the 'world's greatest female athletes'. Do they say LeBron is one of the world's best male athletes? Is Tiger? Federer? Why not? They are certainly not female."
In 2016, tennis champion Serena Williams issued an open letter in Porter Magazine discussing the barriers, doubts and stereotypes that have followed her throughout her career.
Discussions surrounding prize money, funding and media coverage for women in sports have been on the rise in recent years, but a new campaign by ESPN W, the female-focused digital brand of ESPN, shows that inequality in sport is still rampant.
Don't let the light pastel tones of its campaign fool you. The contrasts depicted in the "Inequality Courts" campaign show a discouraging reality for many female athletes.
The campaign was executed in Brazil with work from Sao Paulo agency Africa. During ESPN's Brazilian broadcast of various women's sports matches in late May, ESPN W superimposed blue and pink bars on top of the action, turning the courts into infographics to demonstrate the tangible ways in which female athletes are passed over for their male counterparts in terms of space, funding and prize money (according to the campaign, many co-ed tournaments still give smaller prize amounts to female athletes).
Public sport courts in Sao Paulo were also converted to the blue and pink format to demonstrate the differences. Images of the court were used for a print and OOH campaign, which recently went live.