Mercedes-Benz spreads the love
The car brand commissioned a mural and a short film to support the LGBTQ2 community as part of its Pride Toronto sponsorship.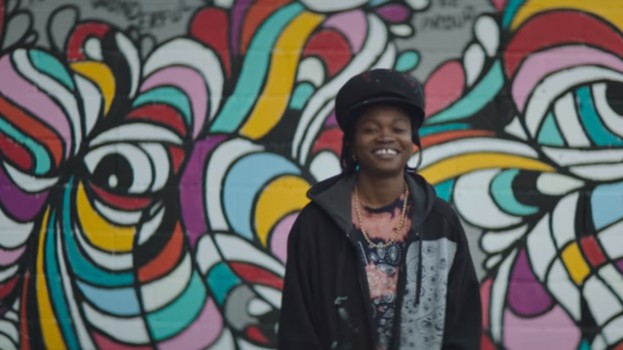 Toronto's Pride weekend has long been a branding opportunity, but not many companies go all in the way Mercedes-Benz Canada did this year. In support of its sponsorship, which included  a weekend-long dance party from June 23-25 and Pride VIPs parading through the city in convertibles, the brand and agency BBDO commissioned a mural and built a digital campaign around it.
Toronto-based queer artist Thomarya "Tee" Fergus painted a warehouse at Dovercourt Road and Dupont Street, inspired by stories of hate speech and discrimination from members of Toronto's LGBTQ2 community, and their ability to overcome it.
An accompanying five-minute film, Painted With Love, tells those stories and takes a stand against discrimination.
"We wanted to take a stand and shine a light on the real effects of hate speech and homophobic/transphobic vandalism," said Virginie Aubert, Mercedes-Benz Canada's VP of marketing, in a press release.
The brand unveiled the mural and documentary at a June 22 screening. It's using clips from the film as six-second bumper ads on YouTube as part of the digital campaign, which also includes a film trailer and banner ads.

Credits:
Client: Mercedes-Benz
VP, Marketing: Virginie Aubert
Manager, Marketing Communications: Nathalie Gravel
Marketing Campaign Lead: Lesley McLelland
Marketing Campaign Specialist: Nicole von Donat

Agency: BBDO Toronto
Chief Creative Officers: Denise Rossetto / Todd Mackie
VP, Creative Director: Dan Gaede
Senior Copywriter: Owen Milburn
Art Director: Jinah Lee
Senior Producer: Terry Kavanagh
VP, Group Account Director: Jennifer Christen
Account Director: Blake Connolly
Account Executive: Kristin Macri
Account Coordinator: Hannah Chafetz
Strategist: Lily Wang
Production: Revolver Films
Director: Mark Bone
DOP: Christopher Lew
Producer: Rob Allan
Executive Producers:  Luc Frappier / Richard Cureton
Post House: Rooster Post Production
Editor: Dave De Carlo
Assistant Editor: Mikaela Bodin
Executive Producer: Melissa Kahn
Online: Fort York VFX
Colour: Nice Shoes
Colourist: Rosalyn Di Sisto
Music House: Grayson Matthews
Audio Director: Dave Sorbara
Executive Producer: Kelly McCluskey
Media Agency: OMD