Toronto vs. nobody
Havas takes a more inclusive view with this riff on the popular "vs." t-shirts.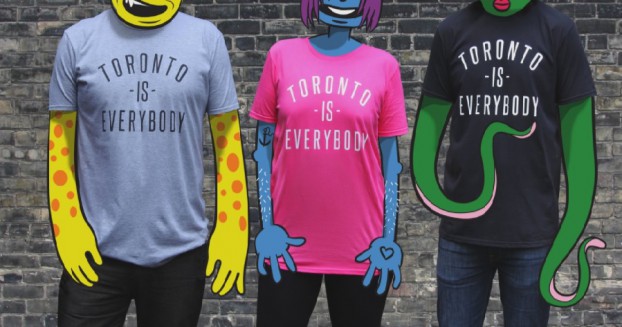 There are times for battening down the hatches, reducing the world into a small clan with a common idea, and viewing everybody else with suspicion. This is usually during the playoffs, when your team isn't as good as you would like it to be so you rally around an underdog narrative that doesn't necessarily line up with the reality of size and resources. "Toronto vs. Everybody" (or "Detroit vs. Everybody") is the battle cry.
But there are times when self-assurance is a better look, and the world can be let back in. Toronto agency Havas sees inclusion as the city's strength. It has taken on the task of remodelling the popular Peace Collective t-shirts to read "Toronto IS Everybody." These come in the classic black, but also in hot pink and rainbow, and with the slogan written in Arabic (a rebuke to the Trump administration's travel ban).
A portion of the profits from sales of the $22 shirts are going to Sketch, a charity for homeless and at-risk youth.