A room with a disturbing view
A fake site for a fake hotel reveals the uncomfortable truth behind what goes on inside some of Canada's lodgings.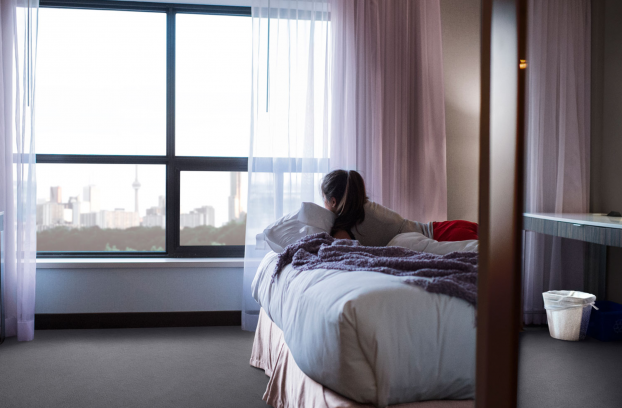 Hotel sites are a dime a dozen. Stock-looking images with selective views of the rooms, cheesy cherry-picked five-star reviews, and over-the-top guest services – they're all the same.
But not Hotel De Jeunesse.
While this hotel continues the trend of using fancy photography to sell its rooms, it shows a little more than just the furnishing. Visitors scroll through images of teenage girls curled up in ruffled beds next to a table of condom wrappers at the top of its site; there are luxury in-room guest services such as threesomes and bondage, as well as dining amenities from oxycontin to marijuana, right next to reviews like the one below.

Hotel De Jeunesse is no ordinary hotel, it's actually a fake.
However, its message about sex trafficking in Canada is very real.
Created by Tribal Worldwide for the Toronto Crime Stoppers, the hotel is meant to show how trafficking hides in plain sight, specifically inside the many "hotels, motels, and other places you and your family might visit," explains the site. "Every day, Canadian girls and boys as young as 12 are trafficked for sexual services" it says, asking visitors to watch out for the signs and report a sex trafficking hotspot when they see one.
A creative campaign, the first by Toronto Crime Stoppers to focus specifically on human trafficking, will run across OOH media, such as transit shelter ads, elevators, TTC digital screens, ad boards at gas stations and inside Mac's convenience stores. There are also carousel ads on Facebook and Instagram, targeting people with travel interests, according to a release. OMD handled the media.
"We wanted to reach people right before they entered into a known human trafficking hotspot so they could help us fight this problem. By creating a presence on travel-related platforms and in those micro-moments, we are able to unpack what signs to look for," said Marketa Krivy, ECD at Tribal Worldwide Toronto. "The signs of human trafficking hide in plain sight and can be easily dismissed if you don't know what to look for. But once you do, it becomes much harder to ignore."