Rock 'n roll glamping
A Beijing hotel has transformed its second floor into a communal sleeping space with tent-like structures inspired by music festivals.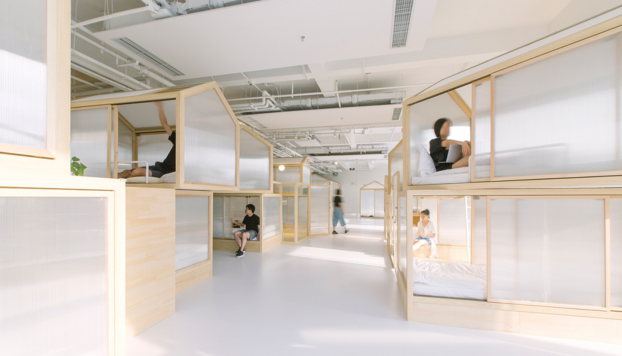 Is it a hotel? A hostel? A festival campsite? Well, it's sort of all three.
On the second floor of a Beijing hotel sits an open space filled with bunk beds inspired by the tents that dot music festival grounds, according to Azure.
The name is Together Hostel and the lodging's contemporary campsite-looking beds are stationed around a large space that, similarly, is inspired by the likes of Woodstock and Coachella, looking a little like a main stage.
"The tent concept came from music festivals, where the stage is always the centre and everything else is around it, and people camp in the empty space," Cao Pu, the project architect, told Azure. "The core of this project was not to live-in, but to use the public space for more activities and for people to interact. We tried to bring the outdoor form indoors."