A gifting lounge disguised as a tiny home
Pomp & Circumstance's boutique hotel on Airbnb is filled to the brim with client wares.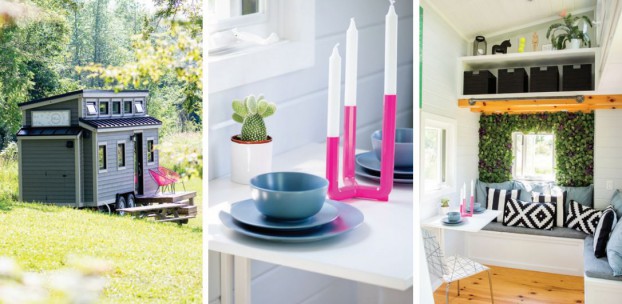 There are film fest gifting lounges in the city, and then there are "tiny home" brand experiences in the boonies.
In a strange, but alluring, twist in media and influencer outreach programs, PR shop Pomp & Circumstance has created a hospitality experience that (to this team's knowledge) no other firm has done before.
It's called "The Pomp Outpost" and sits at only a few hundred square feet in the middle of Prince Edward Country, an increasingly popular countryside area for Toronto yuppies to vacation in recent years. Inside this "tiny home" (built by partners Tiny Homes Construction Canada on The Grange of Prince Edward Vineyard and Estate Winery), the press, influencers and consumers alike will find products from the PR shop's client roster.
It's essentially a hub for media to test and taste client wares, from alcohol brands such as Bombay Sapphire, Bacardi Rum and Grey Goose Vodka, to beds supplied by Casper and decor from Canadian Tire's Canvas. And the price for an overnight stay is $220, with the space available to book on Airbnb from September 1st to the end of October.
"While this is the pilot year for our Outpost, our intention is that each year we will choose a new location or concept, offering media, influencers and the public the opportunity to take in an experience plucked from our collective imagination," said Amanda Alvaro, co-founder and president of the agency, about the program, which replaces P&C's annual "Christmas in July" event.