Stuck in the middle no more
Get out of a sticky situation in a jiffy, thanks to Visa and Air Canada's new speedy payment system.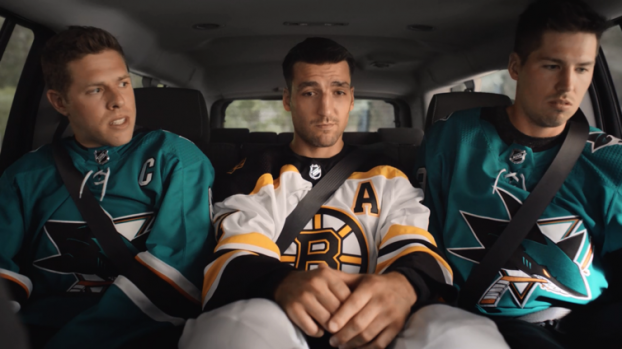 It's enough to have to humour a stranger with verbal diarrhea on a long-haul flight (when all you want to do is indulge in a Gravol/wine sleep aid). It's a whole other thing when your travel companions are friends/colleagues, and you can't just tell them to "shut it" without future repercussions.
Well, what if there were a last-minute escape route that ensured a peaceful flight without hurting anyone's feelings?
Perhaps it's not the only reason you'd choose to use Visa's new express Visa Checkout payment service for any Air Canada flight, but that's essentially what a new campaign for the new partnership showcases, using the (pretty good) acting talents of NHL players for the Boston Bruins and San Jose Sharks.
In the BBDO-created spots, Joe Pavelski and Logan Couture (San Jose Sharks) are shown debating whether or not Canadians make better players on the ice, while poor Patrice Bergeron (Boston Bruins) sits uncomfortably in the middle of the two while they jabber on. Bergeron thinks on his feet, jumping on his phone to change seats using the new Visa service before arriving at the airport.
In the French spot, instead of simply translating the English spot word-for-word, the team created a new version, this one showing Couture teasing Pavelski on how terrible his French is.
Credits:

Advertiser: Visa
Head of Marketing: Brenda Woods
Senior Director, Debit and Commercial: Nic Lopez
Director, Consumer Credit Marketing: Martin Lainez
Manager, Consumer Credit & Sponsorship Marketing: Chris Gorski
Agency: BBDO Toronto
Chief Creative Officer: Todd Mackie
Chief Creative Officer: Denise Rossetto
VP, Associate Creative Director: Linda Carte
VP, Associate Creative Director: Irfan Khan
French Copywriter – Stéphanie Brillon
Senior Producer: Terry Kavanagh
French Producer – Julie Lapré
Strategy: Travis St. Denis
VP, Group Account Director: Stephanie Page
Account Director: Jaya Rizzi
Account Executive: Maddy Cassidy
French Account Supervisor – Mary Montsenigos
Media Agency: Starcom
Production Company: Ad Hoc
Director: Peter Martin
Executive Producer: Sally Leggett
Line Producer: Cia Mellegers
Director of Photography: Bryce Fortner
Editorial Company: School Editing
Editor: Brian Wells
Executive Producer: Sarah Brooks
Online & Audio: Ricochet Post
Online Editor: Andrew Hobbs
Audio Producer: Mike Rosnick
Producer: Janice Rebelo