The cleaning aisle mans up
Krud Kutter's campaign is an ode to "men who treat women like ladies and mildew like scum."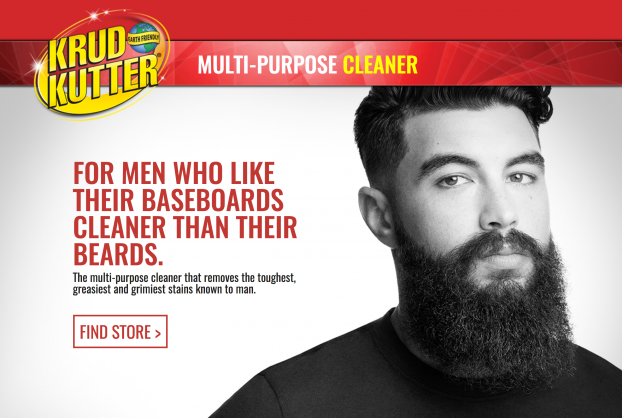 "For men who fear commitment, not grease and grime."
There are two stereotypes brought to the forefront in a new Rust-Oleum ad campaign (one of which we sincerely hope is just satire).
Men have rarely been shown in advertising as the kitchen cleaners, the bed makers, and the floor sweepers of the house. But, according to Jan Kelley, the agency behind the campaign for Rust-Oleum's Krud Kutter, 60% of Canadian men do the household shopping for goods that help them do all the dirty work.
"The fact that the multi-billion dollar cleaning products market in Canada has totally ignored men was a gift to us," says the agency's VP of strategy, Mary Fearon.
It's a bit of a departure for the brand, having previously spoken to both sexes (in addition to the product's efficacy and environmental stewardship, which is still given attention on the brand's website). The idea, though, was to "establish a sustainable presence in the food and grocery channel" with something a little less traditional. The "Men Just Get It" campaign speaks to male shoppers across a variety of digital channels, from takeovers on Sportsnet and Spotify to ads on Facebook and Instagram.