Via Rail takes on rush hour
The brand targets commuters with another reason to change their habits.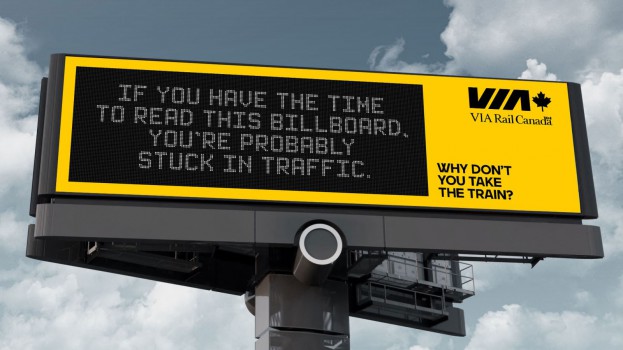 Remember those billboards for new housing developments that always got you at your most vulnerable, when you were stuck in traffic on your way home from work: "If you lived here, you would be home by now."
Well, Via Rail is also after easy prey in its latest additions to the "Why don't you take the train?" campaign.
The work from Cossette and Touché targets drivers near major train corridors, responding to traffic conditions and moments when, for example, the estimated travel time from Montreal to Toronto is longer by car than by train, Infopresse reports. There are also radio ads following traffic reports, and 15- and six-second mobile spots targeting and re-targeting people entering traffic zones.
The campaign asking people to change their habits launched in September 2016.