Pop-up tapping
Interac shows the convenience (and perks) of contactless payment.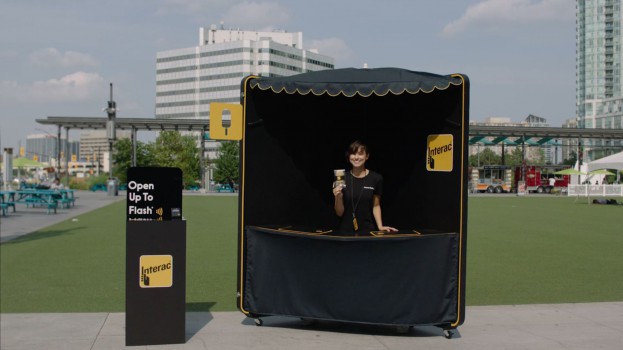 Interac has launched a series of portable pop-up shops in an effort to prove to cardholders the benefits of using Flash contactless payment.
Three different pop-ups look like giant Interac cards, but open up to reveal a grocery store, snack bar and spa. People walking by could make a donation to the United Way using a card with Interac Flash enabled and would not only get a snack, massage or fresh vegetables, but they'd also see how fast and convenient contactless payment could be. The pop-ups were relevant to the time of day they were deployed, and visitors were also given an informative handout shaped like the pop-up.
The three pop-ups were first deployed in Toronto in August. Videos from the activations are now being used as part of a media push behind the campaign as the pop-ups are brought to various locations across Ontario through the rest of September. The videos are running on YouTube, Facebook and Instagram.
Zulu Alpho Kilo is leading the "Open Up To Flash" campaign.
Out-of-home has been a major part of Interac's marketing mix in recent years, and formed the backbone of its debt-fighting "Be In The Black" platform when it launched. Now that the company is focusing more specifically on Interac Flash, it has pivoted slightly to using experiential activations to prove the convenience of contactless payment.
"Those out-of-home ads worked really well and were strong in communicating the brand message at the time," says Andrea Danovitch, AVP of marketing and brand at Interac. "We're trying to talk more specifically about Flash, what it is, what it does and what using it feels like. Actually demonstrating how seamless and simple it is makes a lot of difference when you?re talking to a product experience, compared to talking about a brand and what it stands for."
Interac Flash was first launched in 2011, and Danovitch says most people are at least aware that it exists. However, there is a segment of the population that hasn't embraced Flash despite already being regular debit card users, and Interac is looking for ways to break down the different barriers that are keeping them from trying it, or from using it more often. "Open Up To Flash" is focused on convenience and speed, especially when it comes to small, quick purchases where there has typically been a stigma around using a card to pay.
"They're the kind of person that's comfortable using their debit card, but are just in the habit of using cash," Danovitch says. "It's not a stretch to help them along and get them more in the habit of using Flash. You just have to get them to experience it and see how it can be faster than rummaging around for change by actually tapping."